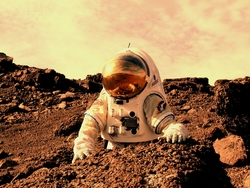 "KEFTY combines key attributes that NASA would look for in an exerciser for spaceflight: it is effective, safe, lightweight, compact, easy to use, versatile, and affordable". Pascal Lee, Director, Haughton-Mars Project
St Paul (PRWEB) December 4, 2010
The KEFTY Company announces today that its revolutionary home exerciser system has been selected by the Mars Institute for use in Summer 2011 onboard concept rovers for future human Moon and Mars exploration operated by the Haughton-Mars Project on Devon Island, High Arctic.
Kefty is a Made-in-USA handheld exerciser with a rubber-tensioned tubing frame made of high impact polymers. It was developed by Minnesota inventor and KEFTY CEO, Nick Musachio. "The unique patented device has resistance in two directions and does not need any external attachment points or gravity to work. At only 4 lbs, KEFTY is lightweight, compact, adjustable, silent, smooth, exercises the entire body, and is easily taken apart for travel, including travel to Mars," says Musachio.
The Haughton-Mars Project (HMP) is a pioneering field research project in the extreme, Moon and Mars-like environment of Devon Island in the High Arctic. There, new concepts are being developed and tested by NASA and other space agencies for future space exploration. In particular, the HMP's Moon-1 and Mars-1 Humvee Rovers support studies at NASA on the design and use of future pressurized vehicles for astronauts on the Moon, Mars, and beyond. Pressurized rovers, like sealed motor-homes, are vehicles in which astronauts would drive, live, work and sleep in "shirtsleeves", and go outside in spacesuits as needed.
"Astronauts on long-duration drives on the Moon and Mars will be cooped up for days to weeks on end within the tight confines of their pressurized rovers. They will need an effective way to exercise and stay in shape. We think KEFTY could be the answer," says planetary scientist Pascal Lee, Director of the Haughton-Mars Project. "KEFTY combines key attributes that NASA would look for in an exerciser for spaceflight: it is effective, safe, lightweight, compact, easy to use, versatile, and affordable."
"KEFTY will keep our astronauts in their 'skinny jeans,' even on Mars," says Musachio. "But, seriously, it is easy to see that KEFTY would be ideal for space exploration, submarines, and small apartments, and we are delighted that the Haughton-Mars Project will be deploying our units". In the summer of 2011, Musachio will assist the HMP by providing KEFTY exerciser equipment for testing, as well as advise the HMP's Moon-1 and Mars-1 crewmembers on optimal use of the KEFTY portable gym system.
More information about the KEFTY, visit the company's web site: http://www.kefty.com.
About KEFTY
KEFTY is a revolutionary home gym system developed by Minnesota inventor Nick Musachio. All components of the KEFTY and its final assembly are made in the USA. The KEFTY Company is based in St Paul, MN. KEFTY CEO Musachio, is originally from Foley, Minnesota, graduated from Cretin High School in St. Paul, and St John's University in Collegeville, Minnesota. He previously pioneered in the field of electrified roadway systems. An Etran proof of concept test track powered a tethered, road-powered, hybrid Isuzu Trooper for over 700 miles without stopping. For more information, please visit: http://www.kefty.com.
About the Mars Institute
The Mars Institute is an international, non-governmental, non-profit research organization dedicated to advancing the scientific study, exploration, and public understanding of Mars. The Mars Institute conducts leading research in Mars Science and Exploration. The Institute also investigates the exploration of the Moon, Deep Space, Near-Earth Objects, and Mars's moons Phobos and Deimos, viewed as stepping-stones in the exploration of Mars. The Mars Institute is committed to conducting high quality peer-reviewed research and sharing the knowledge and benefits of space exploration with students and the general public worldwide. The Mars Institute is headquartered at the NASA Ames Research Park, Moffett Field, CA. For more information, please visit: http://www.marsinstitute.net.
About the Haughton-Mars Project
The Haughton-Mars Project (HMP) is an international multidisciplinary field research project centered on the scientific study of the Haughton meteorite impact crater and surrounding terrain on Devon Island, High Arctic, viewed as an "analog" for Mars and other planetary bodies. The HMP supports a Science program focused on comparative studies between the Earth, Mars and the Moon, and an Exploration program focused on developing and testing new technologies and strategies for the human and robotic exploration of space. Research at HMP is supported by NASA and by the Canadian Space Agency, other government agencies in the US and Canada, and private partners. For more information, please visit: http://www.marsonearth.org.
# # #