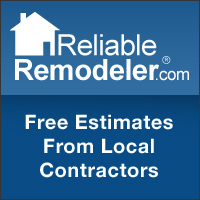 Homeowners tend to think that green building is a new and therefore complex and expensive endeavor
Portland, OR (PRWEB) September 27, 2007
Looking more closely at the financial attitudes people have about green building, ReliableRemodeler.com, a nationwide contractor referral service working to connect homeowners with reliable, local contractors, finishes its three part series of surveys on green building trends in the United States.
While interest in green building is consistently increasing, most homeowners believe that acting on that interest will mean having to deal with a larger budget. Eighty-six percent of homeowners believe that green building practices cost more than traditional home remodeling. Eleven percent of homeowners thought that there would be no difference in price between the two techniques. Only three percent believed that it would cost less.
While both men and women seemed convinced that green building would come with a higher cost, more women than men thought there would be a difference in price between the two. Ninety-four percent of women believed going green would cost more, while only 78 percent of men thought there would be an increased cost. The full green building survey results can be found on ReliableRemodeler.com.
Younger homeowners were slightly more likely than older ones to take on the extra cost they believed came along with using green techniques. Forty-four percent of homeowners age 21 to 30 stated they would pay more for green features, while only 38 percent of homeowners age 51 to 60 said they were willing to pay more for green building. Generally, the majority of homeowners who believed green building would cost more than traditional building were unlikely to want to pay for the extra cost.
"Homeowners tend to think that green building is a new and therefore complex and expensive endeavor," said Eric Doebele, CEO of ReliableRemodeler.com. "However, contractors have been offering greener techniques for years, homeowners just don't realize it. Making your home more energy efficient by replacing old windows or landscaping with drought tolerant plants in drier areas are simple ways of remodeling green that won't impact your budget in a large way."
Homeowners seemed more interested in considering green features for certain home remodeling projects. When asked what projects they would consider using green building materials for, roofing was the most popular choice. Bathroom remodeling and custom homes were the second and third most popular home improvement projects.
About ReliableRemodeler.com:
ReliableRemodeler.com is a leading nation wide home improvement contractor referral service working to bring together homeowners and contractors. To date, the company has matched over 200,000 homeowners with home improvement projects to quality, local contractors. Besides homeowners, the company targets over 1.2 million home improvement and remodeling contractors in the United States, providing them access to quality home improvement leads using proprietary matching technologies.
Both homeowners looking to start a home improvement project, or contractors who want to start receiving qualified leads, can visit our website, ReliableRemodeler.com.
For information about this press release or about ReliableRemodeler.com please contact:
Paige Thomas or media@reliableremodeler.com.
###