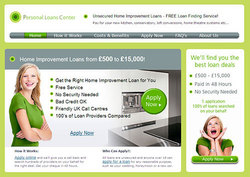 London, UK (PRWEB) April 18, 2009
A home improvement loan from the Personal Loans Center provides money to customers who want to make home improvements but do not have the money available or do not want to use their hard earned savings to pay for them now. For more information on easy to access home improvement loans from the Personal Loans Center visit:
Whether customers are looking to give their home a makeover, finish jobs they keep meaning to get around to, install a new boiler, double glazing or want to create some extra space with the addition of a conservatory, garage conversion or even a loft conversion, a home improvement loan is a great option. Whatever the customer plans to do to their home that could add value will qualify for a home improvement loan.
Making home improvements can also go a long way to helping homeowners sell their home and get the sale price they are looking for.
Customers can borrow between £500 and £15,000, which could cover DIY work materials and also larger scale building work to improve their home. A home improvement loan from the Personal Loans Center can help customers manage their budget and can also provide important contingency money when undertaking any improvement work.
It doesn't matter if a customer does not have a good credit history as no credit checks are made on application. To apply for a home improvement loan customers simply need to complete the quick and easy application form:
Apply for your Home Improvement Loan Now
A helpful UK support member will call the customer back on the telephone number they have provided to talk them through the best home improvement loans for them and advise them on all their options. If customers have any questions the helpful call centre staff will be only too happy to help, there is also a frequently asked questions webpage.
Once customers have spoken to their advisor and agreed on the best home improvement loan for them, the money is sent out within 48 hours, either as a cheque or paid directly into their bank account. Customers can agree to repay their home improvement loan in easy to manage monthly instalments for a period of up to 7 years.
A home improvement loan from the Personal Loans Center can help customers get the most out of their home, for more information go to:
###