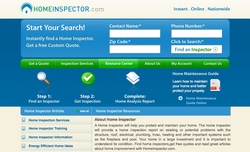 Instantly find a Home Inspector and learn how to maintain your property.
Miami, FL (PRWEB) October 18, 2010
HomeInspector.com is a new resource for home buyers, sellers, and owners who want to make smart and savvy home buying, purchasing, and inspection decisions.
This exciting free resource offers a wealth of information through its article bank and nationwide home inspector database. Sellers and buyers can visit Home Inspector and enter the property zip code to be instantly connected with qualified home inspection services in their area. Home inspectors can quickly and easily connect with interested customers to provide free quotes. "Buyers and sellers are able to share experiences and best practices, pass along valuable information, and learn from each other through the interactive site," states a HomeInspector.com spokesperson. Moreover, customers have the chance to receive a free quote on home inspection services from qualified local inspectors in their property area.
Sellers who are working towards an advantageous home sale can discover how to maintain and prepare their home to get the best price for the market. Home buyers can learn more about why a home inspection is so important, what services come with a home inspection, how to read the home inspection report, issues to watch out for, and how to locate and hire a qualified home inspector. Home inspectors can learn more about trainings and new information to stay current in their field, and newcomers to the field can learn how to be trained to become a home inspector, as well as valuable tips for starting a successful home inspection business.
About HomeInspector.com
HomeInspector.com was started in late 2009 by Benjamin Evans to serve customers in the Real Estate and Home & Garden industry. One of the most exciting features of HomeInspector.com is the real time connection that facilitates an instant connection between seller, buyer, and home inspector. Home inspectors have the ability to build up their sales leads through connecting directly with customers through and customers can also instantly find a home inspector. For more visit http://www.HomeInspector.com
Contact information:
Benjamin Evans
# # #