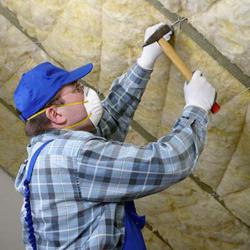 "Making efficiency home improvements this year will lower home energy bills and improve home comfort for years to come, while also reducing federal income tax bills. Wayzata lakefront properties really benefit." ~ Butch Sprenger
Minneapolis, Minnesota (PRWEB) February 11, 2013
A new federal Trade Commission rule requires insulation manufacturers and sellers to disclose the performance of their products, based on uniform testing procedures. This gives home builders and home owners better benchmarks for comparison shopping to make clear choices for home renovations that give homeowners a better insulated home and take advantage of tax encentives.
Many homeowners preparing 2012 tax filings are eligible to use the 25c Residential Energy Tax Credit (HVAC Tax Credits). Beginning this year the government passed legislation that avoided the fiscal cliff by including a provision that retroactively reinstated 25C Tax Credits for residential energy efficiency home improvements. That's good news for homeowners whose home insulation improvements qualify and return invested remodeling funds.
Even hardy Minnesotans are noting "it's cold outside." It is a time that gets homeowners thinking about proper insulation in their homes and how insulation upgrades make for better insulated homes and keep things comfortable. Destiny Homes, owner Butch Sprenger says, "However, it is not easy for homeowners to make heads or tails of advertising claims when buying insulation. That's where the R-value Rule comes in. That is where working with a trusted local home builder pays off".
Insulation's R-value is a measure of its resistance to heat flow: the higher the R-value, the greater the insulating power to protect a home from both cold or heat and maintain the desire temperature inside. "The R-value Rule requires home insulation manufacturers, professional installers, new home sellers, and retailers to provide R-value information, based on the results of standard tests, to help inform consumers," according to the FTC.
Homeowners Know How Much Insulation Is Needed After Knowing How Much Exists
The Minnesota Home Energy Guide walks homeowners through a process of checking current insulation levels. To determine if a home need more insulation, first find out how much insulation the home has. Homeowners can figure out present R-values by noting the type and amount of current insulation. Destiny Homes suggests homeowners walk through their home and do at least one of the following home insulation assessments:
1) Take good look at a homes open exposed areas. Check if insulation exists (and how much) in these key locations – the basement walls, exterior walls, floors above cold spaces, and ceilings below cold spaces. Unfinished areas in a home are easier to see exactly what type of insulation was used earlier and for access to measure its thickness.
2) Get behind closed walls by removing a switchplate, a piece of window or door trim, or by drilling holes into outer walls. Be sure to turn off the power before removing a switchplate cover. While it may be difficult to get an opening large enough to make an accurate check, it still give a lead idea.
3) A more accurate check can be made by drilling holes directly into an outer wall in a closet or cupboard or other hidden area. By cutting a 1- or 1-1/2-inch hole, homeowners can immediately determine whether there is any insulation at all. Or if so, how much. Afterwards, these 'inspection holes' should be filled and finished, and given a touch-up paint job.
Minnesota Power offer guidelines and time lines for home insulation inspections. The builder and owner must be present for the insulation walk-through final inspection. An air infiltration analysis (blower door) and infrared thermal scan will be completed to determine the overall air-tightness or infiltration rate of the home, and to check insulation levels and the quality of a home's installation. The home builder must ensure the ventilation system meets minimum air change standards and that adequate makeup air in the home exists to prevent negative pressure.
"The Twin Cities hosts many exceptional lakefront properties that enjoy the beauty of lakeside views year around; enjoying the benefits of a home well-insulated from winter winds that come in off the lake makes home all more pleasurable," says Butch Sprenger. However, you don't have to live on a lake to notice the difference insulation upgrades make in higher comfront levels from Minnesota cold.
Call Butch Sprenger, owner of Destiny Homes at 952-934-5706 if you are seeking a Twin Cities or Wayzata home renovation. Home owners befefit from a professional home insulation evaluation and recommendation for home upgrades.