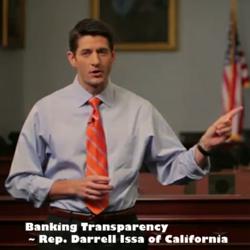 Protecting whistleblowers is absolutely critical — it is the right thing to do. It also ensures that others will have the courage to come forward when they, too, see wrongdoing in federal agencies." ~ Rep. Darrell Issa
Minneapolis, Minnesota (PRWEB) July 09, 2012
Gaining help for homeowner mortgage disclosure rights and bank fraud protections, the OCC reports says, "Reflecting the improved condition of the national banking system, the number of OCC supervised banks with composite CAMELS ratings of 4 or 5 has stabilized, and regulatory actions appear to have peaked for this business cycle. After increasing steadily since 2004, matters requiring attention (MRA) issued to OCC supervised banks fell in 2011, and enforcement actions also declined in 2011."
Home Destination urges homeowners to obtain mortgage disclosures. California's new regulations order that banks show their math if the borrower asks to see it. "If the application is denied, the regulations state, the homeowner has 30 days to appeal. If the bank also denies the appeal, it must wait two weeks before green-lighting the foreclosure process. The bills also possess minor requirements aimed at ensuring that homeowners are informed."
As housing-related loans continue to demonstrate above-average rates of delinquency and charge-off, the OCC outlines it's three major banking risk concerns:

the after effects of the recent housing-driven credit boom-bust cycle
the banking industry's challenges for gaining revenue growth in a post-recession, slow-growth economy
the potential that regulations and economic pressures may mean that banks might take excessive risks in an effort to improve profitability
In the midst the National Mortgage Settlement enforcements and tougher bank regulations, The OCC Spring Semiannual Risk Report says, "Net income in 2011 for banks increased 27 percent year over year to almost $87 billion. Banks of all sizes experienced improvements in operating performance. Smaller banks had the largest percentage increase in net income. For example, net income at banks with assets between $1 billion and $10 billion increased 300 percent, the most of any category, while for banks with assets less than $1 billion, net income increased by 71 percent. The gain in net income at banks with more than $10 billion in assets was 22 percent in 2011."
The Committee On Oversite and Government Reform's report on Countrywide lending fraud released a report on July 5, 2012, showing that "Countrywide used its VIP Program to aid its lobbying efforts as well as to strengthen its relationship with taxpayer backed Fannie Mae. Countrywide partnered with Fannie Mae in a strategic business alliance that also included joint lobbying efforts." Bank of America Corp acquired Countrywide in 2008. Both the lending company and its chief executive, Angelo Mozilo, became widely recognized for their risky lending practices that set the housing market up for its downfall.
Representative Darrell Issa, the Republican chairman of the panel, has worked for three years to obtain mortgage files of members of Congress who received special treatment from Countrywide. As banking fraud reports and mortgage disclosures heighten tensions, the Committee On Oversite and Government Reform has just released a statement saying, "The Inspector General for the Department of Justice has initiated an investigation into the situation described in a June 29 letter from Senator Chuck Grassley and Chairman Darrell Issa about two whistleblowers who testified before Congress about the Fast and Furious matter under the supervision of an individual who allegedly threatened to retaliate against them."
The Bureau of Consumer Financial Protection was Formed on July 10, 2012, in part due to homeowner protections and banking transparency needs noted in the Dodd-Frank financial reform legislation. "The Bureau of Consumer Financial Protection plays a key role in mortgage disclosures and homeowners needs for banking transparency," according to Home Destination's owner, Jenna Thuening. "The bureau is designed to consolidate employees and responsibilities from a host of other regulatory bodies, including the Federal Reserve, the Federal Trade Commission, the Federal Deposit Insurance Corporation and the Department of Housing and Urban Development."
July 2012 is the bureau's one year anniversary. Mr. Cordray, director of Bureau of Consumer Financial Protection, said that, "The agency intends to overhaul the home mortgage market over the next six months as a first step toward improving its fairness and clarity. The goal is to remake the process of getting a mortgage, making it easier for borrowers to understand the kind of loan they are getting and its cost."
Home Destination works with many homeowners who find that mortgages are complex transactions that may include risky features. Contact Jenna Thuening, a CDPE, for help at 612-396-7832.