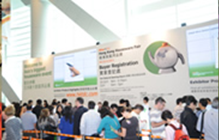 2000 home product suppliers and home product manufacturers from 33 countries and regions will join
(PRWEB) April 18, 2012
Hong Kong Houseware Fair introduces a new zone this year. Globally, we witness a trend for buyers to place order more frequently with smaller quantity. This shift of buying pattern and the growing number of e-retailers make it a challenge for buyers to locate home product suppliers and manufacturers who sell small orders. The newly-launched "Small Order Zone" aims to facilitate small order trading and open up new business opportunities for buyers and sellers alike.
Apart from the new zone, Hong Kong Houseware Fair comprises a number of specialised product zones to categorise home product suppliers and home product manufacturers in groups and make sourcing at ease. The fair's highlight, "Hall of Elegance" in Hall IE, attracts many brands and creative designs, including green & associate, Mastrad, Talk and Umbra. The popular "Green Living zone" also expanded to accommodate more green and recycled home products to cater to the growing demand of eco-friendly products.
Chinese mainland is a market of potential with booming domestic market and strong economic growth. Taking advantage of the China-ASEAN Free Trade Area (CAFTA), ASEAN home product suppliers and manufacturers enjoy a privilege to do business with Chinese mainland because of diminished bilateral tariff. Making the third appearance this year, the popular "ASEAN Select", featuring traditional and crafted items from ASEAN nations, is an ideal platform for ASEAN companies to explore business with mainland buyers.
Returning for the fourth time, "World of Pet Supplies" is a consortium of a wide variety of pet clothes, pet food, pet toys, pet electronic devices and pet accessories. Here, various types and designs are on display, from basic to luxury, from traditional to creative.
During the fair, there will be a series of special events including seminars, cocktail and cultural performances. A new initiative this year is the "Vote for my favourite new homeware". A line-up of brand new home products on display for the first time in Hong Kong will be selected, and international buyers will be invited to vote for their favourite new products that show the most creativity, innovation and practicality in the market. The 10 finalists receiving the highest number of votes will benefit from extensive marketing.
Concurrently held is the Hong Kong International Home Textiles and Furnishings Fair. Associated with home and living, these two complementary fairs are seen as a total solution for buyers to look for anything a home needs, whilst exhibitors of both fairs can explore crossover businesses from a wider pool of buyers.