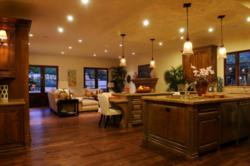 At LA Build Corp. we specialize in custom Home Remodeling in Los Angeles and the surrounding areas. We offer you our years of experience and free in house consultation and evaluation. 877-628-5292
Los Angeles, CA (PRWEB) November 12, 2012
Living in an attractive and spacious home can be a breeze if people know the right company to approach. An expert general contractor and construction company can stretch a home's potential to make homeowners feel like they have bought a better home, for substantially lesser cost. With their expertise in Los Angeles home remodeling, LA Build Corp generously cites the top reasons why people should remodel their homes.

Increase Sales Potential. There are several remodeling techniques which are both simple and affordable that can increase the worth of a home if people are thinking of selling. Paint jobs, clean shutters, new roofs and smart landscaping can immediately give the home a fresh new look while considerably increasing its sales potential.
Get Age-Friendly. Homes serve its purpose when it caters to the age of its inhabitants. The presence of toddlers requires a home to add extra measures to avoid accidents from happening. Same goes with people at retirement age who might need the convenience provided by step-in showers with bars and toilet installations that assist people with limited mobility.
Go Green with Energy-Saving Installations. With the advances in home remodeling and home building technologies, one can save money by replacing the current installations with energy-saving ones. LA Build Corp can provide options such as energy-efficient windows and water pressure-reducing valves.
Be More Social in a Renovated Kitchen. While the living room is where people welcome guests, a good amount of quality time is spent in the kitchen. It is also where people can get the most bang out of their buck with the combined benefit of functionality and aesthetics in their kitchen remodeling.
Update with a Harmonized Home Makeover. There are times when separate room remodeling projects result to clashing aesthetics that alarm expert home remodelers and visitors alike. Having a unified theme throughout the home can help it be more inviting which can also be useful for small events for the family or even the community.
Room additions and remodeling is less stressful than buying a new home. While trying to get a new home can be an exciting venture, there are lots of important decisions and sacrifices that will have to be done to get that perfect home. Instead of buying a new home and dealing with the stress that comes with it, home remodeling in Los Angeles when done right can be a better investment with a return on investment of around 80% or more.
With LA Build Corp's years of excellence in home constructions, clients are assured of being able to achieve whatever goal they have set their eyes on with their home remodeling project. LA Build Corp believes in working with their client in all the steps they are willing to be involved in and achieve customer satisfaction. Resource management is also one of LA Build Corp's strengths as they can work with inexpensive ideas and still get the quality result people expect.
For more information on LA Build Corp's home remodeling and new construction services, visit their website at http://labuildcorp.com or call (877) 628-5292 and get a free estimate. As a full service home remodeling and construction company for almost 20 years, LA Build Corp has achieved and currently maintains a high degree of excellence and performance that resulted to numerous awards and a stellar rating of A with the Better Business Bureau with no complaints from customers.
(877) 628-5292
Tusana Web Design & Internet Marketing