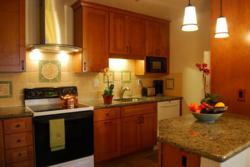 Customer satisfaction is critical in any business, but especially in the remodeling industry because of the personal nature of working in someone's home
Berkeley, CA (Vocus/PRWEB) July 21, 2011
HDR Remodeling, a East Bay remodeling contractor located in Berkeley, has received a 5-star rating in a survey done by Guild Quality, a customer satisfaction survey service. The surveys were initiated as part of the selection process when HDR Remodeling was picked for Remodeling Magazine's Big 50 award in May.
HDR Remodeling, offering the East Bay remodeling services has decided to continue using Guild Quality as a means of receiving up-to-date feedback each month as part of their commitment to continuous improvement and excellence in customer service in all of the home remodeling projects they take on. Receiving up-to-date feedback each month is important for HDR's commitment to continuous improvement and excellence in customer service in the entire home remodeling projects they take on.
"Customer satisfaction is critical in any business, but especially in the remodeling industry because of the personal nature of working in someone's home," said Philip Anderson, President and co-owner of HDR Remodeling. "For the most part, home remodeling contractors do not have great reputations with the general public. Our commitment to Guild Quality and improving our customer service continuously is one of the ways that we intend to set ourselves apart."
Receiving a 5-star rating is an achievement for HDR Remodeling because the survey confirms the satisfaction of their clients. Through this survey, HDR is able to learn if it should make important changes to enhance customer service standards and to create development opportunities for its employees. On this Guild Quality survey, clients are contacted via email or phone and are asked to voluntarily complete the survey that covers a range of topics including professionalism and organization, communication, scheduling, construction quality, problem resolution, , value, and so on.
These are some the specific areas of HDR Remodeling's performance that were highly rated by clients in the first round of surveys:
Construction Quality - 96%
Professional and Organized - 96%
Problem Resolution - 96%
Value - 92%
Likely to Recommend - 91%
The Guild Quality customer survey can be viewed on HDR Remodeling's website or through this link page: http://www.guildquality.com/cr/HDR-Remodeling/Z4M511812494NGS/.
For more information about HDR Remodeling's services, call (510) 984-3755 or visit http://www.hdrremodeling-eastbay.com.
About HDR Remodeling
HDR Remodeling is a single-source, design and construction residential contractor specializing in bathroom and kitchen remodeling services, garage and basement conversions and creating beautiful outside living spaces in Alameda and Contra Costa counties. We are dedicated to helping our clients maximize the value and enjoyment of their homes by providing superior design, construction and home maintenance services.
# # #