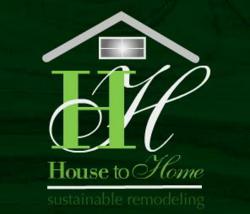 What is green building? I feel that first and foremost, 'green' means good decision-making.
San Francisco, CA (Vocus/PRWEB) March 10, 2011
Stephen Donnelly of House to Home Remodeling feels green usually means something different to different people, but because he considers his home remodeling company to be a San Francisco green builder, he feels the word is ever-changing.
"What is green building? That is the proverbial question that is highly debated," said Donnelly. "I feel that first and foremost, 'green' means good decision-making. If you are not making a wise decision on what you are putting in your home than that is not being green. For instance, when you do a major remodeling project, you are likely putting something in that will be around for a future owner or owners. If this is not something that is universally liked, or is very specialized, the new owner may rip it out and start a new project, and that is not being green."
Donnelly likes to refer to House to Home Remodeling as a "boutique residential remodeling company" because his people take the time to give people the treatment that they deserve. They give clients their proper due and strive to take away a little of the stress from having these people invading their home for months at a time during a remodeling project by being polite, respectful and always available to answer their questions and concerns.
"I also consider communication as being green," said Donnelly. "People know a remodeling project is going to cost money, but breaking down every single item and what it costs helps to break down a little bit of the stress. Nothing will take away all the stress of a remodeling job, but it helps."
House to Home Remodeling has been serving the San Francisco area for 21 years and will do any type of remodeling project and using green materials in practices during that remodeling job.
For more information about green building or any of House to Home's services, call them at (415) 992-5743 or visit their website at http://www.housetohomesf.com. They work weekdays from 7:30 am to 5 pm.
About House to Home Remodeling
House to Home Remodeling is a San Francisco home remodeler that specializes in green homes and sustainable remodeling services for kitchens, bathrooms, exterior (including windows and decking), interior (including built-in closets, home entertainment centers, and home offices), tenant-in-common conversions, income properties, and more.
House to Home Remodeling serves the San Francisco Bay Area communities of Brisbane, Burlingame, Colma, Daly City, Millbrae, Pacifica, Redwood City, San Bruno, San Francisco, San Mateo, and South San Francisco.
###