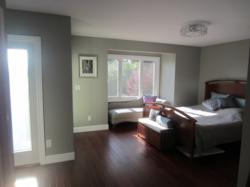 Some of the guys didn't realize I was the owner
It didn't take long before I felt like one of the crew,
San Francisco, CA (PRWEB) December 14, 2011
San Francisco home remodeler, House to Home Remodeling announces they are now offering a do-it-yourself consulting service to homeowners who want to take part in their own remodeling project.
Most people know they can remodel, they just don't know how. If homeowners can contribute even 15% of the cost of a major remodel, the cost of the new bathroom or addition will stay within budget.
Stephen Donnelly, owner of House to Home Remodeling, is an experienced teacher. His ability to give clear instruction is an invaluable tool in maximizing the homeowner's effectiveness.
The workplace environment provided by House to Home Remodeling is conducive to the feeling of empowerment experienced by a homeowner finding his or her inner construction worker.
In 2010, House to Home Remodeling built a 700-sq ft two-story addition with homeowner Jon Hinz. Jon did the entire demo, painting and floor installation, which could have cost him $35,000 in labor. By doing it himself, Jon was able to take a $215,000 project back in line with his $180,000 budget.
"It didn't take long before I felt like one of the crew," said Jon Hinz. "Some of the guys didn't realize I was the owner. They just thought I was the painter. Stephen, Jeff, and Josef always made it clear what I needed to do by when. We got to the end of the job where it was just about all my part of the project. There was never any pressure from them about progress. Stephen says that I did all the flooring, but truth be told, he spent a couple of Saturdays helping me. He said it was to make up for a couple of change orders, but it was really just how he operates."
Most contractors shy away from owner builders because they fear that they will be held accountable for the work of the owner or that they will be held up by the pace of their performance. Stephen Donnelly thinks that open communication is the key.
Stephen Donnelly says, "Remodeling is a collaborative process. It is more about being willing to participate than being all knowing. There are numerous functions from demo, clean-up, purchase of materials, and even trade functions that are well within the typical homeowners' ability. This is just an expansion of the collaboration between contractor and client. Just this time, the financial benefits stay with the homeowner."
For more information about San Francisco's green builder, House to Home Remodeling, contact them at 415-240-6010 or visit their website at http://www.housetohomeremodel.com. House to Home Remodeling is located at 2411 47th Avenue in San Francisco.
About House to Home Remodeling
House to Home Remodeling is a San Francisco home remodeling company that specializes in green homes and sustainable remodeling services for kitchens, bathrooms, exterior (including windows and decking), interior (including built-in closets, home entertainment centers, and home offices), tenant-in-common conversions, income properties, and more.
House to Home Remodeling serves the San Francisco Bay Area communities of Brisbane, Burlingame, Colma, Daly City, Millbrae, Pacifica, Redwood City, San Bruno, San Francisco, San Mateo, and South San Francisco.
# # #