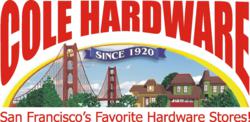 Customers always ask for home repair referrals at their local hardware store
San Francisco, CA (PRWEB) September 07, 2011
Cole Hardware, located in San Francisco, announces they are celebrating the fifteenth anniversary of their Home Repair Referral Service Program this September.
"Customers always ask for home repair referrals at their local hardware store," says Rick Karp, President of Cole Hardware. "Establishing a legitimate home repair referral service so that we could pre-screen trades people and only refer the best, seemed imperative."
As a result, in 1996, Cole Hardware announced the new Home Repair Referral Program in its monthly newsletter, The Hardware Hotline.
"We didn't know what to expect. But when the paper hit the streets, the phones began ringing! Early on we were getting about ten requests from customers a day. Fast forward to today, we're kept busy referring 40-50 jobs per day," Karp added.
Their customers love the Home Repair Referral Program as Cole Hardware stands behind each trades person with its satisfaction guaranteed motto. Trades people love the program as well as it keeps them busy and working.
To celebrate the program's anniversary, this September Cole Hardware will be offering a free home security check for San Francisco residents conducted by their excellent locksmith, Marc Estoque. Mark has worked with Cole Hardware since the inception of the Home Repair Referral Service. He is an expert at repairing locks, rekeying locks, and, of course, home security. He is on-call 24 hours a day, 7 days a week. "Call for scheduled work or for emergencies," says Marc.
"Our 15th anniversary is an important milestone" says Larry Karp, the Home Repair Referral Service Manager. "Every day, people from all over the City call or email to get our referrals for the best plumbers, contractors, electricians, painters and more." The Home Repair Referral Service is, according to Rick Karp, the golden handshake of customer service.
Cole Hardware, located in San Francisco, carries a full assortment of hardware tools and accessories. In addition to exclusively offering Benjamin Moore paint, they carry a range of items designed to help complete all types of home repair and home improvement needs. Each of their four stores carries a wide range of items to ensure that anyone will find what they are looking for, whether it's a power tool, or just a light bulb. Customers will find a wide range of items for plumbing, electrical repairs, gardening, and storage and organization.
Each Cole Hardware San Francisco location has an on-site lock repair. They have a large selection of security items and services including key duplication, lock repair and lock replacement parts.
They also feature a vast selection of kitchen electrics, gadgets, cookware, bakeware, and bath accessories. Cole Hardware also offers seasonal houseware items including textiles, candles and gifts.
For more information about Cole Hardware, call Rick Karp at 415-753-2653 #5 or email at rick(at)colehardware(dot)com. To directly contact the Home Repair Referral Service, call Larry at 415-753-2653 #3; or visit them online at colehardware.com. Cole Hardware is located at 3312 Mission Street in San Francisco.
About Cole Hardware
Cole Hardware is a San Francisco hardware company with four locations that specializes in home repair, lock repair, and electrical repair. The first green-recognized hardware store in the nation, offering traditional hardware fare including Benjamin Moore paint, manual and power tools, electrical and plumbing supplies, housewares, garden and cleaning products, Cole Hardware also offers a range of services including lock repair and locksmith services and a home repair referral service.
###