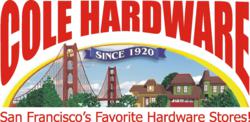 Help us make this penny drive a success
San Francisco, CA (PRWEB) September 14, 2011
Home repair company, Cole Hardware, a one-stop full service hardware shop located in San Francisco announces they held a fundraising Penny Drive during the month of August. Proceeds will be used for the benefit of the Children's Miracle Network Hospitals.
The hardware store's goal is to fill a five-gallon water jug, which can hold around 300,000 pennies or $3,000. Anyone can make a donation, whether it is a penny or all of their leftover change, by dropping it into the water jugs located in the shop. Cole Hardware will report how much it has collected at end of the month. Every penny counts and raising these funds will be a great help to children.
"Help us make this penny drive a success," said Rick Karp of Cole Hardware.
The Penny Drive project will help the Children's Miracle Network Hospitals, a foundation dedicated to helping as many children as possible by raising funds for children's hospitals. Through this fundraiser, Cole Hardware is helping children suffering from illness in its own small way. The company believes that the money it collects can go a long way to contributing to the health care needs of children.
For more information about Cole Hardware, call 415-742-8306 or visit colehardware.com.
About Cole Hardware
Cole Hardware is a San Francisco hardware company with four locations that can help with home repair, lock repair and electrical repair. The store also has a garden center. The first green-recognized hardware store in the nation, Cole Hardware offers traditional hardware supplies including Benjamin Moore paint, manual and power tools, electrical and plumbing supplies, housewares, and garden and cleaning products. Cole Hardware also offers a range of services including a home repair referral service.
###