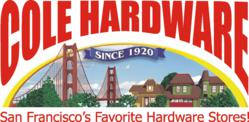 Our new wines, both a merlot and a sauvignon blanc, are examples of our unique marketing and commitment to our community
San Francisco, CA (PRWEB) November 04, 2011
San Francisco home repair company Cole Hardware celebrates its 50th anniversary under the ownership of the Karp family.
Founded in 1920 on Cole Street, Cole Hardware was acquired by Dave Karp in 1961 and has stayed with the family ever since. In line with the celebration, Cole Hardware will be having an Anniversary Sale on December 7, where everything in their stores will be discounted by 25%.
In addition to the 25% discount offered to all customers that day, Cole Hardware is also releasing its new signature Cutting Edge wine, Cole Hardware's very own Napa Valley wine. The wine will be poured during the evening of the anniversary sale. It will also be given away to schools and non-profit organizations to be sold at their fundraising events.
"Our new wines, both a merlot and a sauvignon blanc, are examples of our unique marketing and commitment to our community," says Rick Karp, President of Cole Hardware. "We like to have fun with our patrons and always present them with new and surprising ways to interact with our business."
For more information on Cole Hardware, call (415) 742-8306 or visit them online at http://www.colehardware.com/. Cole Hardware is located at 3312 Mission Street, San Francisco, CA 94110.
About Cole Hardware
Cole Hardware is hardware company in San Francisco that specializes in home repair, lock repair, and electrical repair. The company is the first green-recognized hardware store in the nation and offers traditional hardware fare including Benjamin Moore paint, manual and power tools, electrical and plumbing supplies, house wares and garden and cleaning products. Cole Hardware also offers a range of services including lock repair and locksmith services and a home repair referral service. Cole Hardware presently has retail locations at 4th Street, Cole Street, Polk Street and Mission Street.
###