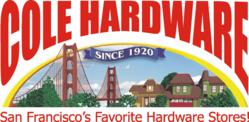 We are happy to be a part of the San Francisco community and are pleased to assist the schools and non-profits in San Francisco doing their part to make our City the best place to live
San Francisco, CA (PRWEB) December 02, 2011
This year marks the 17th year of Cole Hardware's Community Partner Assistance Program. Each year the company tries to enhance the program by adding more benefits that will assist schools and non-profit groups in the city with their fundraising programs. This year Cole Hardware is expanding their gift registry to include their community partner groups so that they can register for supplies needed for special projects or create an ongoing wish list of products that they need to run their programs.
The registry may be used for improvement projects and can include paint and supplies or cleaning products. Schools and community gardens can also register for gardening supplies. Cole will set up the registry and the community can easily access the group's wish list and purchase online any of the items on their list or a gift card.
"We are happy to be a part of the San Francisco community and are pleased to assist the schools and non-profits in San Francisco doing their part to make our City the best place to live," says Julia Strzesieski, marketing coordinator for Cole Hardware.
San Francisco home repair store, Cole Hardware also has an ongoing Spare Change Program. In August they participated with other independent hardware retailers across the county in collecting spare change for the Children's Miracle Network and collected over $500. In October, they collected spare change for (take out Tina's) Bay Area Young Survivors, a support group for breast cancer survivors and presented the group with a check for over $800. In light of the program's success, the company has decided that every month they will collect spare change for one of their community partners.
In November their spare change collection will benefit the Haight Ashbury Food Program (HAFP), which was founded in 1983 as a neighborhood response to hunger. December's change collection efforts will benefit Big Brothers, Big Sisters of the Bay Area.
Cole Hardware is still offering their Cutting Edge wine for their community partners to serve at their fundraising events. The wine comes in beautiful bottles and is available in merlot or sauvignon blanc.
For more information about Cole Hardware, call (415) 742-8306 or visit them online at colehardware.com. Cole Hardware has four locations in San Francisco: 70 4th Street, 956 Cole Street, 2254 Polk Street and 3312 Mission Street.
About Cole Hardware
.
Cole Hardware is a San Francisco hardware company with four locations that specializes in home repair, lock repair, and electrical repair. The company is the first green-recognized hardware store in the nation, offering traditional hardware fare including Benjamin Moore paint, manual and power tools, electrical and plumbing supplies, housewares, garden and cleaning products. Cole Hardware also offers a garden center and a range of services including lock repair and locksmith services and a home repair referral service.
###