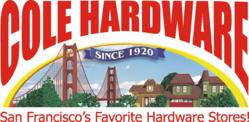 We appreciate the generosity of our friends at Green Toys for this wonderful offer and for their kindred spirit of community support
San Francisco, CA (PRWEB) December 08, 2011
Cole Hardware, a San Francisco based hardware and garden center company, together with Green Toys is sponsoring a toy drive for Arriba Juntos, a San Francisco-based community organization. For every Green Toy purchased at any of the four Cole Hardware locations from November 21st to December 22nd, the customer may select a Green Toy valued up to $15 to donate to the toy drive.
All toys are made of recycled plastic milk jugs. The toys will be given out to children in the community at Arriba Juntos' La Posada celebration.
La Posada is a colorful tradition celebrated in Mexico every evening from Dec. 16th to December 24th, and also celebrated by many staff members of Cole Hardware Mission Street store.
Each night of the celebration, a party is held in a neighborhood home with plenty to eat and drink. At dusk, guests gather outside the house and follow a procession with a child dressed as an angel leading the way for children, adults, and musicians alike, as they sing and carry candles. Posada means "shelter" in Spanish, and when the group reaches its destination, half stay outside to ask those inside for refuge. The happy end to each Posada is a piñata, traditionally made in the shape of a star to recall the star of Bethlehem, which guided the three kings.
"We appreciate the generosity of our friends at Green Toys for this wonderful offer and for their kindred spirit of community support," said Robin Miller, Cole Hardware General Manager.
Cole Hardware, located in San Francisco carries a full assortment of hardware tools and accessories. In addition to exclusively offering Benjamin Moore paint, they carry a range of items designed to help complete all home repair and home improvement needs. Each of their four stores carries a wide range of items to ensure that anyone will find what they are looking for, whether it's a power tool, or just a light bulb.
Within each Cole Hardware location, customers will find a wide range of items spanning from plumbing and electrical repair to storage and organization.
Each Cole Hardware location has a lock department for duplicating keys, including car chip keys. They also offer a mobile locksmith, and their downtown location includes an on-site locksmith.
Their vast selection of kitchen appliances, gadgets, cookware, bake ware, and bath accessories are ideal as Christmas gifts, and they also feature seasonal houseware items including textiles and candles.
For more information about Cole Hardware, call (415) 674-8913; or, visit them online at colehardware.com. They are located at 3312 Mission Street San Francisco CA 94110.
About Cole Hardware
Cole Hardware is a San Francisco hardware retailer with four locations that specializes in home repair, lock repair, and electrical repair. The first green-recognized hardware store in the nation, offering traditional hardware fare including Benjamin Moore paint, manual and power tools, electrical and plumbing supplies, housewares, garden and cleaning products, Cole Hardware also offers a range of services including lock repair and locksmith services and a home repair referral service.
###