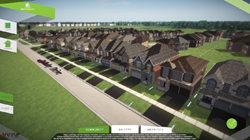 working together with Salefish to deliver this top of the line sales and marketing product to our client and helping to sell the project in record time
Toronto, Ontario (PRWEB) May 05, 2015
At a recent opening of the Aurora Glen community sales event, a powerful combination of technologies from Salefish and NVYVE created the ultimate customer experience for home buyers where they could see and select details of a lot and home, like never before.
Using real estate sales software powered with 3D interactive technology and cutting edge graphics, home buyers browsed through the inventory of 3D floor plans and house types so they fully understood their future space and lot type.
"The Salefish system, when combined with the graphics and interactive system of NVYVE, is an unbelievably powerful tool to assist a sales representative in the home selling process." said Joseph Alberga of Lindvest.
The marketing and sales innovation proved to be a huge success at their Aurora Glen launch resulting in 135 firm home sales in 4 days, selling out the entire Phase.
"Lindvest couldn't be happier with the response from our sales team and everyone who had the opportunity to experience the system first hand." says Joseph Alberga, Director, Sales & Marketing, Lindvest.
3D models were placed on lots as homes were sold within the community. NVYVE provided the 3D interactive experience and 3D model content. Salefish provided the real time availability content based on architectural control rules, and position data to locate the house on the lots. In addition the sales software reported real time pricing including all lot, grading and upgrade premiums.
Touchscreen technology and iPads allowed home buyers to find the perfect lot and home to suit their needs. The technology offered the option to view the entire site plan, proposed homes and floor plans in 3D with 360 degree rotation.
As homes are sold, the interactive 3D site plan updates in real-time to show how the development and streetscapes will appear in reality. The software also features the builder story and the local area amenities so buyers can see what dining, shopping and recreational facilities are offered in the neighbourhood.
"We were excited to be part of this undertaking, working together with Salefish to deliver this top of the line sales and marketing product to our client and helping to sell the project in record time." Says Marvin Maalouf, President and Chief Executive Officer of NVYVE.
About Lindvest
Lindvest is a Toronto-based real estate development organization with deep roots, spanning six decades in the award-winning, highly-reputed H&R family of companies. Lindvest was founded in 1998, and since that time has built successful communities across the Greater Toronto Area, all designed with beauty and function in mind.For more information about Linvest, visit http://www.lindvest.com
About NVYVE
Founded in 2013, NVYVE Inc., an award winning Interactive Content and Visualization Company, evolved from its sister company NEEZO Renders Inc., to create stunning, interactive 3D applications for architecture, product design, and more. NVYVE creates 3D worlds that revolutionize the way we experience digital content. For more information about NVYVE, visit http://www.nvyve.com
About Salefish
Salefish Software provides real-time transactional data solutions that provide open, convenient access to information for home buyers and sales professionals. Our industry leading technology enables pricing transparency and information portability for the home buyer. Linking transactional data to 3D interactive and ERP systems provides a seamless and efficient experience for home builders. Salefish Software provides leading technology solutions for builders, developers and their sales agencies. For more information about Salefish Software, visit http://www.salefishsoftware.com