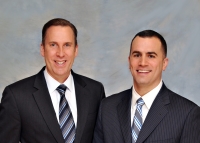 Every month this year we've seen an increase in home sales when compared to the same month in 2011.
(PRWEB) September 18, 2012
McGeough Lamacchia Realty ran a report showing that 2012 is shaping up to be one of the strongest years for home sales since 2007. According to the MLS Property Information Network (MLSPIN)*, year to date home sales in Massachusetts reached 44,055, an increase of 19 percent compared to the same period last year.
The last time home sales were higher was the same time period in 2007, when that number was 47,293. Even with the large increase in sales, average home sale prices remained flat at an average of $370,181.
The majority of those home sales, about 49 percent, occurred this summer. From June 1st 2012 to August 31st, there were 21,546 home sales in Massachusetts, compared to 17,834 last summer, a 20.8 percent increase.
Historically fall is the second busiest season for home buyers. John McGeough and Anthony Lamacchia, co-brokers and owners of McGeough Lamacchia Realty, say home sellers shouldn't wait until spring to put their homes on the market.
"This fall more than ever is a great time for you to sell your home. Every month this year we've seen an increase in home sales when compared to the same month in 2011, and we believe this will continue through the rest of 2012. Even the summer did not slow down as much as usual," says John McGeough.
One factor contributing to the stabilization of the housing market has been the lower inventory of homes for sale, which remains low for September. The Massachusetts MLSPIN number of homes listed for sale, currently at 32,367, is a 17 percent decrease compared to September of last year, when there were 39,120 homes for sale. Fewer homes for sale is causing a slight increase in list prices. The average listing price this month, $458,543, is 1.7 percent higher than it was September last year, when it was $450,612.
The lower inventory is also causing increased competition for homes, which means homes are selling faster than they did in 2011. According to a recent news release from the National Association of Realtors® (NAR), the time it takes to sell a home is shrinking.
Lawrence Yun, NAR chief economist, commented on the effect these low inventory levels have on the housing market across the country: "As inventory has tightened homes have been selling more quickly. A notable shortening of time on market began this spring, and this has created a general balance between home buyers and sellers in much of the country."
This effect is happening in Massachusetts as well. Summer home sales in Massachusetts that fell within the price range of $200,000-$499,000 spent an average of 105 days on market, 3.6 percent less than last summer.
Interest rates have hit record low levels this year. As of this writing, a 30 year fixed mortgage hovers around 3.65 percent, down from 4.26 percent a year ago. This is good news for buyers. The average rent for a 2 bedroom apartment in the metro Boston area is now around $2,300. With mortgage rates this low, monthly mortgage payments are well below average rents. For instance, with a 5 percent down payment on a $250,000 home, at current rates the monthly mortgage payment would be about $1,500.
McGeough Lamacchia Realty says buyers should keep in mind that with such low inventory levels and competitive home prices, when they see a home they want they need to act fast.
"Have your agent schedule a showing as soon as possible and make an offer," says Anthony Lamacchia. "We're seeing more home buyers lose out on homes because there aren't enough homes on the market for them to see. And when they do find one they love, there are multiple offers on the home. "
McGeough Lamacchia Realty expects this trend to continue for the rest of the year.
For more information, visit the New England Real Estate Blog
*MLSPIN data includes most home sales in Massachusetts, but it does not include all sales, such as certain areas in Cape Cod and Western Massachusetts because each area has its own MLS.
About McGeough Lamacchia Realty:
McGeough Lamacchia Realty is the number one Real Estate Agency in Massachusetts and named one of the fastest growing Real Estate Companies in the U.S in 2012 by Inc. Magazine. They are a full service real estate agency serving home buyers and sellers Massachusetts and New Hampshire.