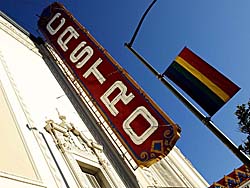 The goal right now is to have 14 hanging baskets in the two-block Castro area. All donations made to the Castro CBD are tax deductible
San Francisco, CA (Vocus/PRWEB) May 19, 2011
San Francisco's Herth Real Estate will be holding a beautification benefit and art show on San Francisco's Castro Street on May 19 from 5:30 to 8 p.m. The event will benefit the local Castro community by raising funds for hanging flower baskets throughout the Castro area.
"The goal right now is to have 14 hanging baskets in the two-block Castro area. All donations made to the Castro CBD are tax deductible," said Russle Woods, Marketing Director for Herth Real Estate.
Herth Real Estate is an expert in home sales and property sales, with a specialty in luxury real estate. Its excellent reputation is founded on establishing long-term relationships with clients based on trust and high ethical standards. With its success in the real estate industry, Herth Real Estate is organizing this event to give something back to the community that has been so supportive of their business.
Art show guests will experience works of local artists such as Judith Williams, Toby Judith Klayman, Andrew Faulk, Vivienne Flesher, Joseph Mack Branchcomb, Victor Cabrera, Felipe Rodriquez, Sam Price, Masks by Kai, Franck Avril, Randy Tichenal, Perry David Tennyson, Traci Zaretzka, Greg Nelson, Tina Siu, and Irene Hendricks.
For those unavailable to attend, donations can be made via a secure online donation at http://www.castrocbd.org.
For more information, call 415-992-6618 or visit http://www.herth-sf.com.
About Herth Real Estate
Established in 1965, and located in the heart of the Castro District of San Francisco, Herth Real Estate is one of the largest independent brokerages in the city. Throughout its 45-year history, Herth has held a place among the Bay Area's top real estate companies. The firm specializes in fine residential homesales, condominiums and multi-family properties located throughout the diverse and dynamic neighborhoods of the city.
# # #