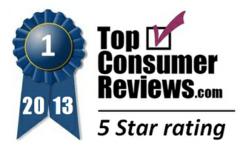 Wireless home security systems continued their upswing in popularity for 2013.
Atlanta, GA (PRWEB) April 25, 2013
TopConsumerReviews.com has named the best home security systems in Georgia for 2013. TopConsumerReviews.com provides independent reviews for thousands of products, including top home security systems, in order to help consumers make the best decision possible.
Surprisingly, residents in the beautiful state of Georgia encounters 34 crimes per square mile each year. Burglaries and thefts are also significant in Georgia with over 350,000 occurrences each year. That means that one in every 28 residents will become a victim of property crime annually. Also, one in every 268 residents will be a victim of a violent crime. For many Georgia residents, they feel a need to not only protect their home and belongings but the people living inside. Dead bolts and exterior lighting can deter some criminals but a home security system is the best defense against a would-be intruder.
TopConsumerReviews.com, an independent organization dedicated to providing unbiased reviews of home security systems each year, found that customer satisfaction on home security systems was contingent on a list of key attributes. Those identified features were systems that provided affordable pricing, the very latest technology, and the added layer of 24 monitoring service. TopConsumerReviews.com also saw a trend in customers who want remote access to their home security systems to help manage their busy lives.
Wireless home security systems continued their upswing in popularity for 2013. Wireless home security systems have little to no installation damage or costs. Additionally, wireless systems often use cellular technology to maintain a connection with the monitoring service and therefore are flexible for home owners without landlines and provide a higher level of security should a wire or connection get cut from the outside.
To find out more about home security companies, including reviews and comparison rankings, please visit the Home Security Systems category of TopConsumerReviews.com at http://www.topconsumerreviews.com/home-security/.
About TopConsumerReviews.com
TopConsumerReviews.com, LLC is a leading provider of independent reviews and rankings for thousands of consumer products and services. They offer the latest on Home Security including information, education, and ratings for the top rated home security systems available today.