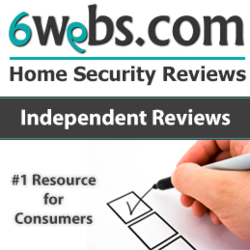 Compare the leading home security providers side-by-side on 6Webs.com
San Francisco, CA (PRWEB) February 18, 2013
6Webs.com is the leading home security reviews website that has helped thousands of home security shoppers make the decision to purchase the best security system for their family. Each year the independent reviews site investigates and ranks the top home security system companies on their monitoring plans, customer service, equipment, warranty and pricing. The results are then published on their website where consumers can quickly compare the features and services from the leading providers. Dozens of home security system companies are reviewed each year but only the top 5 home security companies are ranked.
Tim Smythe, senior editor for 6Webs.com stated, "6Webs.com recently published the results for the 2013 best home security system company. In addition to the overall ranking we like to release the top picks for other categories as well. For example, each year we release the best wireless security system and best do-it-yourself or DIY home security system. This year we have a new category called Best Home Security System Company with a Smartphone App."
The 2013 Award for the Best Home Security System Company with a Smartphone App goes to FrontPoint Security. FrontPoint Security offers their clients wireless home security systems with cellular monitoring services and a 30-day money back guarantee. FrontPoint Security also provides their customers with a smartphone app to remote control their home security system by arming and disarming the system remotely. Customers can also remotely stream video from a wireless home security camera directly to their iPhone, iPad or Android device. Additionally, the FrontPoint Security system can be configured to send text message alerts to customers when doors or window sensors are triggered. It is a great way to keep tabs on what is going on at home.
To read the full FrontPoint Security review and how they stack up against the competition, please visit http://www.6Webs.com/best-home-security-systems/
About 6Webs.com
6Webs.com is the consumers' choice for independent and unbiased home security reviews. Focused on delivering quality reviews and assisting consumers with making a decision for their home security, 6Webs.com also publishes education tips and articles to help consumers lead a safer and more secure lifestyle. Their latest article on, "How Much Does ADT Cost" provides consumers with the information they are looking for.