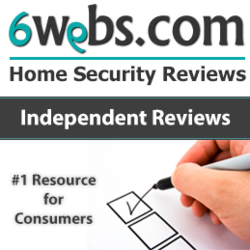 6Webs.com is the number one resource for home security system reviews.
San Diego, CA (PRWEB) February 17, 2013
6Webs.com, the leading independent home security reviews site, has helped thousands of consumers compare the top home security providers and assisted them in purchasing the best security system for their home and family. Recently finishing their reviews and rankings of the best home security system in 2013, the reviews site has released their pick for the best security system company with mobile access.
Tim Smythe, the senior editor for 6Webs.com stated, "A large percentage of home security shoppers are interested in the mobile capabilities of a home security/home automation system. Not only do they prefer to have their homes monitored 24/7 by the home security company but they want the ability to know what is going on at home when they are away. With the latest developments in home security and home automation this is now possible. Due to the large amount of questions the 6Webs.com website receives it was in our readerships best interest to release the 6Webs.com pick for the top security system company that provides mobile access."
The number one ranked home security company that provides mobile access features is FrontPoint Security. FrontPoint Security offers their customers wireless home security systems, 100% cellular monitoring services and a 30-day money back guarantee. The customer service oriented home security company offers its customers Interactive monitoring services which include the following features.
1. Remote Control: Remote control features allow customers to remotely arm/disarm the home security system when away from the home. This has many conveniences from forgetting to arm the system before leaving the home to allowing a maintenance worker into the home while at work.
2. Alerts and Notifications: Customers can configure text message alerts when events occur in the home like when the garage door opens when the kids arrive home from school. Reminder notifications can be sent when a customer leaves the perimeter of their home when geo-services are available from companies like FrontPoint Security.
3. Streaming Video: Remotely streaming video from a wireless home security camera to an iPhone, iPad or Android device is one of the best ways to keep tabs on what is going on at the home front.
To see a detailed comparison of the best home security system companies, all who offer mobile access, please visit: http://www.6webs.com/home-security-systems-reviews/
About 6Webs.com
6Webs.com is the leading provider of independent home security systems reviews. Focused on delivering unbiased reviews and publishing annual rankings of the best home security system providers, 6Webs.com is quickly becoming the consumers' top resource to refer to when purchasing a home security system. 6Webs.com also publishes educational information and tips on all aspects of home safety helping people lead a safer and more secure lifestyle.