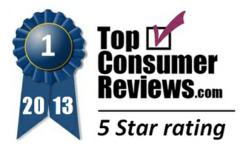 With a burglary occurring every 13 seconds in our nation, a reliable home security system has become very important to safeguard a home.
Los Angeles, CA (PRWEB) May 15, 2013
TopConsumerReviews.com has announced the best home security systems in Los Angeles for 2013. TopConsumerReviews.com provides independent reviews for thousands of products including home security systems reviews in order to help consumers make well informed decisions.
Los Angeles is one of the largest cities in the United States. With over 3 million residents, of varying socioeconomic status, crime is prevalent in this city. In fact, Los Angeles sees over 80,000 property crimes each year and 1 in every 188 residents can expect to be a victim of a violent crime.
What choices do Los Angeles residents have to protect themselves? Outdoor lighting and deadbolts on each exterior door are a great start but home security systems provide the level of security that most people are looking for to protect themselves, their families and their possessions. When choosing a home security system savvy shoppers turn to the experts for assistance. TopConsumerReviews.com helps consumers make well informed decisions on their home security purchase and take the stress out of researching and choosing the right company for them.
Brian Dolezal of TopConsumerReviews.com explains, "With a burglary occurring every 13 seconds in our nation, a reliable home security system has become very important to safeguard a home. Finding the right home security system, however, can a lengthy and overwhelming process for those new to the idea. TopConsumerReviews.com has analyzed several of the top nationwide home security systems to help customers make the best decision possible."
The 2013 analysis performed by the team at TopConsumerReviews.com, found that across several home security system companies those that provided the latest in advanced technology, wireless options, affordable pricing and 24 hour monitoring service ranked the highest in customer satisfaction. In addition, many consumers reported a positive reaction to home security systems with remote access technology - leading the way for busy people and frequent travelers to check the status of their home, engage the alarm and view interior or exterior video from anywhere via internet access.
TopConsumerReviews.com also identified that, those companies that allowed customers to customize the system to meet their individual needs not only provided the greatest level of protection but helped them save money.
To find out more about home security companies, including reviews and comparison rankings, please visit the Home Security Systems category of TopConsumerReviews.com at http://www.topconsumerreviews.com/home-security/.
About TopConsumerReviews.com
TopConsumerReviews.com, LLC is a leading provider of independent reviews and rankings for thousands of consumer products and services. They offer the latest on Home Security including information, education, and ratings for the best home security systems available today.