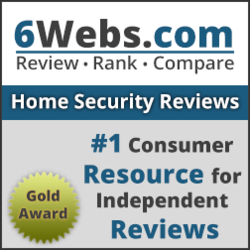 Compare the leading home security companies online at 6Webs.com.
San Francisco, CA (PRWEB) May 29, 2013
6Webs.com has helped thousands of consumers research and compare the features and services offered by the leading home security system companies. Each year, 6Webs.com conducts reviews of dozens of home security companies based on several important factors like their monitoring technology, equipment and warranty information to name a few.
The 2013 home security system comparisons are now available on 6Webs.com at:
http://www.6Webs.com/home-security-systems-reviews/
According to Tim Smythe, the senior editor for 6Webs.com, "The 6Webs.com staff not only provides in-depth reviews of the features and services offered by each home security company but also puts them in a format so consumers can compare them side-by-side. When shopping for a home security system, it is difficult to try and compare each of the home security packages offered by each home security company. The 6Webs.com side-by-side comparisons make it easier for consumers to find the information they are looking for and helps them to select the best home security system for their family."
Home security systems with monitoring services have changed over the years for the better. Now, home security companies offer more types of monitoring services as well as mobile access from an iPhone or an Android device. There are many options to compare and without having a side-by-side comparison and a resource to explain what each of the features mean, it can become difficult to compare.
To read the latest reviews and see who was awarded the coveted 6Webs.com Gold Award, please visit 6Webs.com at:
About 6Webs.com
6Webs.com is focused on delivering the most up to date and relevant home security information to consumers in the market for a home security system. In addition to providing latest reviews and comparisons, 6Webs.com also publishes education information to help families stay safe and lead a more secure lifestyle.