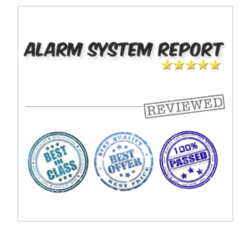 AlarmForce meet several criteria that thrust them into the rankings and we're happy to recommend them to our visitors.
Reston, VA (PRWEB) October 18, 2012
AlarmSystemReport.com's 2012 list of best home alarm system companies is complete and the review pages have been fully updated. This year, Alarm System Report is proud to announce that AlarmForce has made the rankings. Their systems and solutions passed AlarmSystemReport.com's strict minimum requirements and the experts at AlarmSystemReport.com did a comprehensive review on them.
The experts who audited AlarmForce found that the company had a nice set of home security solutions for all homeowners. They also found the pricing to be quite agreeable. Combine AlarmForce's already low prices with the alarm system discounts offered up by AlarmSystemReport.com and you'll find that AlarmForce has some of the most reasonably priced systems on the market.
Full reports on AlarmForce's quality of service, pricing, and technology can be found in detail on AlarmSystemReport.com's review pages. Homeowners looking to buy a new home alarm system can go through and compare alarm systems until they find the exact home alarm system they are looking for.
AlarmSystemReport.com offers up full reviews on all of the top companies on the market. This gives them the ability to provide completely unbiased reports on all of the systems.
Unbiased Reviews
In addition to this, AlarmSystemReport.com hires home security professionals to independently audit all of the main home alarm systems companies without collaborating with each other. This means that each home security professional will give his or her own opinion on the system and company being evaluated.
AlarmSystemReport.com feels that doing the audits this way ensures that they don't run into group-think issues. Often times, groups can corrupt each other's opinions and the reviews can come out biased. AlarmSystemReport.com's independent audits stop this type of situation from happening with their reviews.
Also, AlarmSystemReport.com checks with independent review sites as well. They use a wide variety of social sites to check up on their own reviews. If the reviews end up being very far apart from each other, they'll do more research until they find the disconnect between them.
Knowledge Center
AlarmSystemReport.com isn't just a review website either. The experts at AlarmSystemReport.com also write blog posts on the latest technology. This helps keep homeowners up-to-date on what is going on in the home security field and makes buying a home alarm system much easier. Home alarm systems companies can offer customers with the sun and the moon, but if customers don't know what these things are, they really can't benefit from them.
AlarmSystemReport.com provides this information and much more. To see what AlarmSystemReport.com has to offer, please visit their website.