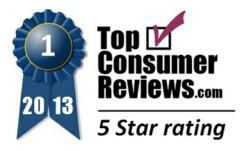 Each year TopConsumerReviews.com carefully analyzes the top nationwide home security systems so that homeowners can determine the best system for their needs.
Overland Park, KS (PRWEB) June 24, 2013
TopConsumerReviews.com recently revealed the best home security systems for 2013. TopConsumerReviews.com provides independent reviews for thousands of products including home security systems in order to help consumers make well informed decisions.
Each year, TopConsumerReviews.com carefully analyzes the top nationwide home security systems so that homeowners can determine the best system for their needs. While on the surface it seems like many home security companies provide a similar product, there are many details which can differentiate one over another. Price, contract terms, customer service, security sensors, and even home automation capabilities can vary greatly from one home security system to another.
As Brian Dolezal of TopConsumerReviews.com explains, "Many homeowners today are looking for an effective, affordable home security system. With the risk of burglary and violent crimes on the rise in many parts of the U.S., people justifiably want to protect their home and loved ones. At TopConsumerReviews.com, we do much of the leg work for consumers by closely analyzing several nationwide home security companies. We compare features, price, and service so that potential home security customers can make the decision that makes the most sense for them."
For 2013, the top rated home security systems include:
FrontPoint Security. FrontPoint provides home security shoppers with state-of-the-art equipment and top-notch customer service. Homeowners can save significantly on installation costs since they can easily install this 100% wireless security system themselves. The flexible contract periods are an additional customer-focused feature that we liked. With their all-cellular products, easy installation, and comprehensive monitoring packages, FrontPoint earns high marks.
Protect America. This company provides excellent equipment and a 24 hour nationwide monitoring system at an unbeatable entry level price point. Free equipment and no installation costs make the Protect America home security system affordable to anyone. The support staff at Protect America is knowledgeable and helpful. For those looking to protect their home safely and affordably, Protect America is a great choice.
LifeShield. In addition to providing a nationwide 24x7 home security monitoring service, LifeShield also makes the home security equipment that their customers install. This can provide some advantages from both a cost and time savings standpoint. LifeShield also offers a DIY home security installation model, as well as a professional installation option for those who prefer a more hands-off approach. With over 20 patents in home security and home protection, and a unique whole-home fire protection solution, LifeShield is a solid option.
To find out more about home security companies, including reviews and comparison rankings, please visit the Home Security Systems category of TopConsumerReviews.com at http://www.topconsumerreviews.com/home-security/.
About TopConsumerReviews.com
TopConsumerReviews.com, LLC is a leading provider of independent reviews and rankings for thousands of consumer products and services. They offer the latest on Home Security including information, education, and ratings for the best home security systems available today.