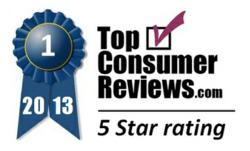 Our reviews can help show renters which home security systems can make the most sense for them.
Overland Park, KS (PRWEB) February 27, 2013
TopConsumerReviews.com has released their ratings for best home security systems for rental properties, including apartments, duplexes, and single family homes. Security system shoppers may read the entire review and ranking of several home security companies online at TopConsumerReviews.com, which provides independent reviews for thousands of products including home security systems in order to help consumers make well informed decisions.
"With the risk of a break-in and violent crimes on the rise in many parts of the nation, people need to take measures to safeguard their household," explained Brian Dolezal, of TopConsumerReviews.com, LLC. "Rental properties can be especially susceptible to burglaries and property crime, due to their increased foot traffic and relatively short residencies. Our reviews can help show renters which home security systems can make the most sense for them."
There are a number of factors that renters should take into consideration when evaluating a home security system. Some of these include:
Installation
Most management companies do not allow for any major modification to walls of hard wiring of electronics. Renters should look for a self-installation home security product that will cause little to no damage to the property.
Flexibility
Many occupants of rental properties do not stay in their homes for long periods of time. These renters should look for a home security system that can be transferred and reinstalled at any apartment or rental home with a simple call to the company.
Equipment
Whether a person rents their property or owns their home, reliable equipment is important to the security they're looking for. Renters need a home security system that comes with a long history of quality made products. Renters also need products that are accomodating with regards to installation.
To find out more about home security systems, including reviews and comparison rankings, please visit the Home Security Systems category of TopConsumerReviews.com at http://www.topconsumerreviews.com/home-security/.
About TopConsumerReviews.com
TopConsumerReviews.com, LLC is a leading provider of independent reviews and rankings for thousands of consumer products and services. They offer the latest on Home Security including information, education, and ratings for the best home security systems available today.