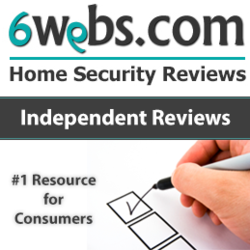 6Webs.com is the number one source for home security reviews.
Detroit, MI (PRWEB) February 21, 2013
6webs.com, the independent home security reviews site, has helped thousands of consumers purchase the best home security system for their family. In addition to their annual rankings published on the 6webs.com website, they have released the top home security companies that provide cellular monitoring services.
Tim Smythe, the senior editor for 6webs.com, stated, "Cellular monitoring services are becoming more and more popular because they are less vulnerable to be circumvented by an intruder. Since a cellular system is 100% wireless there are no wires exposed outside a customer's home, so there are no wires for an intruder to cut. Most cellular-based monitoring comes with the technology to alert the home security company if the control panel has been smashed or destroyed by an intruder. It is for these reasons why consumers are selecting cellular monitoring services."
At the top of the list of home security companies that offer cellular monitoring services is FrontPoint Security. FrontPoint Security offers wireless home security systems with 100% cellular monitoring services to their customers. The advantage to selecting FrontPoint Security is that they only offer 100% cellular monitoring services. The other top ranked home security companies offer phone line and Internet-based monitoring services for the starter plans.
Cellular-based monitoring also provides interactive services where customers can use their iPhone, iPad or Android device to remotely connect to their home security system. Remotely streaming video to a mobile device, arming or disarming the system or receiving text message alerts are some of the features that customers enjoy with cellular monitoring services.
To view the side-by-side home security comparison, visit:
http://www.6Webs.com/home-security-systems-reviews/
About 6Webs.com
6Webs.com is focused on delivering the most up to date information to consumers related to home security. Publishing annual reviews of the leading home security providers, 6Webs.com makes it easy for consumers to quickly compare the features and services available from each provider.