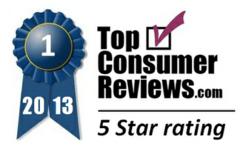 TopConsumerReviews.com provides independent reviews for thousands of products, including home security systems reviews, in order to help consumers make well informed decisions.
Overland Park, KS (PRWEB) February 06, 2013
The ADT home security system was recently reviewed and ranked by TopConsumerReviews.com, which provides independent reviews for thousands of products including home security systems reviews in order to help consumers make well informed decisions.
ADT has been in business since 1957 and is one of the first names in home security that comes to mind for most people. ADT provides dependable home security systems with all the bells and whistles in a traditional option. Their equipment is designed to meet the needs of anyone, especially when budget is not at the top of the customer's list.
In keeping up with the latest technology, ADT provides a number of home security plans with both land line and cellular options. Four different plans to choose from are offered by ADT. All plans come with a wireless key pad, wireless control panel, a back-up battery and a high-decibel alarm. Three door and window sensors are standard with each package as well as the ADT yard sign and 1 pet immune motion sensor. As the plans increase in price additional technology and features are added.
As in years past, ADT prefers to send an associate to evaluate a home and help determine which option is best. ADT also requires a technician to install the equipment as hard coding is required with certain equipment. However, many of the home security sensors and detectors are now wireless and less intrusive.
To find out more about home security companies, including reviews and comparison rankings, please visit the Home Security Systems category of TopConsumerReviews.com at http://www.topconsumerreviews.com/home-security/.
About TopConsumerReviews.com
TopConsumerReviews.com, LLC is a leading provider of independent reviews and rankings for thousands of consumer products and services. They offer the latest on Home Security including information, education, and ratings for the best home security systems available today.