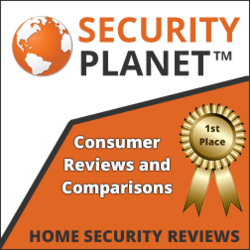 Consumers look to SecurityPlanet.com for the latest and most up to date information on home security systems.
San Francisco, CA (PRWEB) June 05, 2013
SecurityPlanet.com is the trusted source of unbiased and independent home security system reviews. Homeowners that are searching for a home security system can do a comparison of the options and services of the nation's best security system providers online at SecurityPlanet.com. Just recently finishing the security reviews for the best security system with mobile access, SecurityPlanet.com is now announcing the results. Each security system provider is rated on severaldifferent aspects including customer service, pricing and warranties to name a few.
Gavin Anders from SecurityPlanet.com reports, "Mobile access has become increasingly popular in recent year. Almost everyone has either an iPhone, iPad or Android device nowadays and the home security companies are offering remote control features. Home security customers can remotely arm/disarm their security system as well as control their homes with home automation features right from their smartphone or tablet."
The best home security system company in with mobile access is FrontPoint Security. FrontPoint Security provides home security services throughout the United States and Canada by supplying their customers with wireless home security equipment from GE Security. FrontPoint Security's capability to keep a fantastic customer service rating coupled with their cutting-edge technology has made them a favorite among homeowners. FrontPoint Security's mobile services are provided through Alarm.com where their customers can receive text messages or email notifications when certain events occur at the home like the doors or windows opening. FrontPoint Security customers can also opt for their Ultimate plan which includes video monitoring from a wireless home security camera right to a customer's smartphone.
To compare the features and the services of the leading home alarm system providers visit SecurityPlanet.com at:
SecurityPlanet.com - Alarm System Reviews
About SecurityPlanet.com
SecurityPlanet.com is dedicated to delivering homeowners with the best burglar alarm system information available. Homeowners can quickly do a comparison of the leading security system companies on SecurityPlanet.com to help them purchase the best security system for their household. Centering on providing unbiased reviews and side by side comparisons, SecurityPlanet.com also publishes educational advice associated with home security and safety to assist families lead a healthier and more secure lifestyle. SecurityPlanet.com recently published Understanding Home Alarm Systems on their blog.