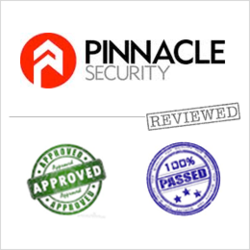 Pinnacle Security is definitely a company that offers comprehensive home security solutions and we encourage customers to take a look at their services.
Washington, DC (PRWEB) October 22, 2012
AlarmSystemReport.com's 2012 rankings now list Pinnacle Security as one of the top home alarm system companies. This company joins nine other fantastic home security companies who all passed AlarmSystemReport.com's strict minimum requirements for evaluation.
Once these companies prove their organizations merit evaluation, AlarmSystemReport.com hires experts in the home security field to secretly use the services of these companies. After they've tested the companies in a variety of areas, they report their findings back to AlarmSystemReport.com. AlarmSystemReport.com then tests these evaluations versus the reviews from everyday users and gives each company a final rating score.
The ratings are based on a five star system and six different general criteria are listed. These include the company's affordability, customer service, ease-of-installation, equipment quality, support, and warranty.
Alarm system report found that Pinnacle Security rated well in all categories and ended up listing them in their best home alarm system reviews. The company was approved in all areas, but was found to excel in the affordability category. This is because AlarmSystemReport.com found that Pinnacle Security had a low upfront cost and an affordable monthly fee.
AlarmSystemReport.com also found that Pinnacle Security had good equipment. Their equipment is made by GE, which provides home security equipment to a variety of home security companies. The warranty on this equipment is also quite excellent as well. As we all know, all new technology can be fickle and it's never a bad idea to have a good warranty on a new piece of equipment. Making use of a good company with a nice warranty period on their equipment is always the right thing to do.
The owners of AlarmSystemReport.com have also brought down the price of home security systems by providing their readers with alarm system coupons. These coupons can help save homeowners a bundle on their new equipment and some homeowners have reported a total savings of up to 35% off the original price.
One of the great things about using AlarmSystemReport.com to find a new home alarm system is the fact that they aren't an alarm system company. This website is simply an unbiased review website which uses experts and everyday users to create the best home alarm system reviews on the Internet.
Homeowners can visit AlarmSystemReport.com to get coupons, read reviews, and even to read up on the latest home security technology. To join these homeowners in finding the best home security system for your house, please visit AlarmSystemReport.com.