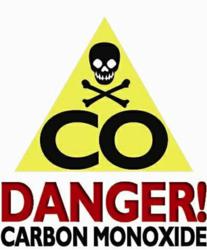 Getting a carbon monoxide sensor is one of the best investments a household can make.
Cleveland, OH (PRWEB) January 15, 2013
Carbon monoxide is an odorless, colorless gas that may go unnoticed by many home residents, but it can lead to serious and illness or even death. In fact, carbon monoxide is the most common cause of death by poison in the United States, with over 400 Americans per year dying of unintentional carbon monoxide poisoning. The gas also leads to as many as 20,000 visits to the emergency room each year.
The production of carbon monoxide can occur whenever natural gas, propane, gasoline, charcoal, kerosene or wood are burned. Winter is a time when many Americans are particularly susceptible to CO poisoning, as temperatures drop, more people use gas appliances to heat their homes.
The safety and security experts at AlarmSystemReport.com, a site that provides reviews of the top home alarm systems and home alarm system companies, compiled a list of tips homeowners can follow to protect their families from sickness due to carbon monoxide.
1. The best way to protect a home's residents from CO poisoning is to install monitors specifically for this purpose. Many of the best alarm systems for the home include carbon monoxide monitors, which operate much like a smoke detector and will beep or make a sound if the levels in the home are dangerous. There are also options for homeowners who want to install a DIY alarm system for carbon monoxide monitoring. All homes should be equipped with some type of carbon monoxide monitoring system that should be subject to regular maintenance, to ensure it is in proper working order. To provide the best protection from carbon monoxide, monitors placed throughout the home should be connected to one another, so that when one monitor detects the gas, all of the alarms in the home will sound.
2. Carbon monoxide monitors should be installed on every level of a home, and in particular near bedrooms and sleeping areas, for the best protection.
3. When warming a vehicle, particularly during winter months, remove the vehicle from the garage right after starting. Don't allow a vehicle to idle in a garage in enclosed space, even with the doors to the garage are open.
4. Store all gasoline products in a well-ventilated area outside of vehicles and rooms in the home. The best place to store these types of products is outdoors or in a detached garage or shed.
5. On the exterior of the home, ensure that all vents are free of debris and potential blockages. This includes vents for the dryer, furnace, stove and fireplace. In the winter these areas should also be clear of snow.
6. Do not used gas-powered devices, such as grills, generators or camping stoves inside your home, or other enclosed spaces such as your garage. In addition, these items should not be used near windows.
About the Company
AlarmSystemReport.com is a site featuring reviews and comparisons of top security systems on the market. Reviews include ADT systems and FrontPoint security reviews.