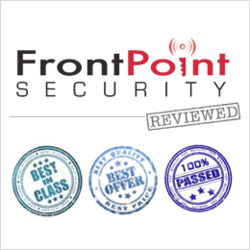 FrontPoint Security offers a comprehensive solution for DIY home alarm systems, but it was their customer service ratings that blew us away and secured them the spot at the top of our list.
Reston, Virginia (PRWEB) September 24, 2012
The DIY alarm system reviews are in and FrontPoint Security has been rated number one in the industry. Each year AlarmSystemReport.com audits the top home security companies and ranks them in a variety of areas. Since DIY has become so popular in the home security field, AlarmSystemReport.com decided to give it its own place in the rankings.
FrontPoint Security was rated as having the best diy home alarm system for a variety of reasons. The number one reason however was its great customer service. The experts at AlarmSystemReport.com secretly made purchases from FrontPoint Security and found that FrontPoint had the most friendly and knowledgeable customer support agents in the industry.
In addition to this, AlarmSystemReport.com found that the customer experience was greatly enhanced through the use of pre-programming. The Customer Service team at FrontPoint pre-programs all home security devices before sending them to the customer. This means that the customer can quickly and easily setup their DIY systems without having to consult manuals, watch videos, or take courses in home security system installation.
The devices FrontPoint uses are also state of the art. FrontPoint sells alarm technology that is both cellular and wireless. These devices make use of the latest home security technologies, making them safer than all of the other models on the market.
Not only this, but AlarmSystemReport.com found that FrontPoint had the most advanced online remote access systems. The FrontPoint Security reviews on AlarmSystemReport.com say that FrontPoint Security gives customers the ability to control their security systems as well as their utilities from a smart phone application or computer. These applications have been created for the Blackberry, IPhone, and Android-based phones. This means that no matter what smart phone you own, you'll be able to take advantage of FrontPoint's interactive remote monitoring features..
AlarmSystemReport.com's alarm system review didn't stop with their audits and personal experiences, however: this rating organization likes to be thorough, and will always check with the Better Business Bureau (as well as social review sites) to see how actual customers views the companies that AlarmSystemReport.com ranks.
The results of this check showed that the BBB had the lowest number of complaints registered for this company out of all the companies we reviewed. It also showed that FrontPoint is registered with the BBB. This means that this company cares about their reputation and is willing to pay money to be judged by it.
Also, FrontPoint had a great social footprint as well. AlarmSystemReport.com searched through websites like Yelp and Angie's List and found only positive consumer reviews on FrontPoint. Compare this to many other home alarm system companies and you'll find that this is almost unheard of.
To read more about FrontPoint's DIY alarm systems, please visit AlarmSystemReport.com.
###