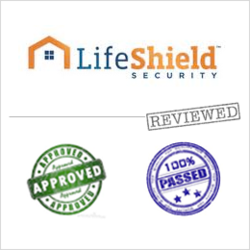 There are hundreds of alarm system companies out there and only 10 spots on our list. LifeShield exceeds as a nice alternative to those companies that simply resell services for parent companies.
Washington, DC (PRWEB) September 25, 2012
LifeShield Security has passed AlarmSystemReport.com's strict evaluation process and made it onto the Alarm System Report reviews in a variety of areas. They ranked within the top ten in the general category and within the top five in the wireless home alarm system reviews. This puts them above many other companies in the industry and makes them one of the top companies for consumers to consider shopping with.
AlarmSystemReport.com found that LifeShield Home Security had a fantastic wireless DIY system and a very affordable monthly fee. Not only this, but LifeShield Home Security does not have any alarm contracts, so customers can come and go as they please. The experts at AlarmSystemReport.com also found many other benefits to using Lifeshield Home Security, but you'll have to read their LifeShield reviews to learn what they are.
The unbiased reviews posted on AlarmSystemReport.com are well worth the visit to their website. They hire industry experts to independently audit these companies for performance in a wide variety of important areas. These performance areas are then posted up on the website and each company is given a five star rating in each area.
AlarmSystemReport.com doesn't just list a star rating either. They describe each company in detail and let their readers know exactly why each company received the rating they received. This makes it easy for homeowners to quickly evaluate each company and saves them a lot of time.
Consumers who are new to home security can also find out exactly what makes certain alarm systems the best alarm systems. AlarmSystemReport.com has created a blog which covers many of the basic questions homeowners might have about burglar alarm systems. They answer these questions in laymen's terms which makes it easy for the average person to understand.
Articles outlining the newest technologies in the industry are also posted up on AlarmSystemReport.com's blog. This means that even homeowners who are familiar with home security can still receive value from AlarmSystemReport.com's regular posts.
Once homeowners have read through the site and determined what they need, they can then get a reasonably priced quote from all of the top companies. AlarmSystemReport.com has struck many deals with the home security industry leaders and is passing them onto their readers.
Homeowners can look through all of the home alarm systems companies and then navigate to AlarmSystemReport.com's quote page. Once on this page, the homeowner can fill out the form and wait for a multitude of great quotes to come pouring in. To find out more, please visit AlarmSystemReport.com.