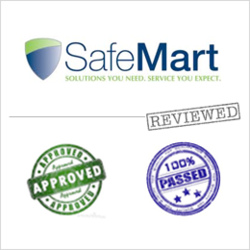 Washington, DC (PRWEB) October 04, 2012
If you've read the press lately, you probably already know that SafeMart Home Security has already earned a top spot on AlarmSystemReport.com's list of the best wireless home security systems. However, did you know that SafeMart Home Security also has a fantastic DIY alarm system?
SafeMart Home Security has just secured itself a top spot on AlarmSystemReport.com's list of best DIY alarm systems. The DIY alarm system reviews are just as strict as the other category reviews and may be even harder to be listed in. This is because the DIY alarm systems have to meet the needs of regular users as well as the needs of AlarmSystemReport.com's experts.
AlarmSystemReport.com goes out of its way to gather as many personal reviews as it can on the DIY alarm systems. It goes on websites like Angie's List, Facebook, alarm system forums, and as many other places as it can find genuine reviews from regular users. The reason they do this is that the experts can't always identify how easy it might be for a regular user to install a DIY system on their own. These experts are great at determining how good an alarm system companies technology is and how well their customer support staff is doing, but sometimes they are just too skilled to determine whether or not a regular user can operate a specific DIY system or not.
In the end, Alarm System Report combines the expert's reviews with regular user reviews to come up with the perfect unbiased DIY alarm system rankings. They list the best companies that have the best alarm systems for the home and leave out all the ones that aren't performing.
The SafeMart reviews have shown that SafeMart really wants to provide their customers with a lot of options. SafeMart hs excelled in many specific category reviews and is among the top ten in the general reviews.
AlarmSystemReport.com has discovered that many home alarm system companies are working harder than ever to earn and maintain their rankings on the site. Not only this, but alarm system companies are so eager to earn the respect of AlarmSystemReport.com's readers that most of them have decided to offer special pricing to AlarmSystemReport.com's visitors.
Homeowners looking to save money on their next home security system just need to visit AlarmSystemReport.com and sign up to be contacted by the top alarm companies. Once they've signed up, all they have to do is wait for the companies to call them with their best prices.
To take advantage of this pricing, please visit AlarmSystemReport.com.