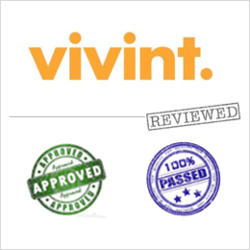 Vivint is quickly moving up the charts with us. We see them making big changes that are constantly impressing us and pushing the industry forward.
Reston, VA (PRWEB) October 08, 2012
The "do it yourself" category reviews are all finished and only a few top companies made the list this year. One of these companies is Vivint Security. This company has done wonderful things to revamp their company this year and it has really improved the way they do business. Both new and old customers are now getting a tremendous amount of value from Vivint securities DIY alarm systems.
AlarmSystemReport.com used its experts to secretly buy DIY alarm systems from Vivint and the other top alarm system companies so they could review them. After this, they did a DIY alarm system review on Vivint and determined that Vivint is one of the best alarm system companies in the industry to buy a DIY alarm system from.
The reason for this is that Vivint offers all of the latest technologies, an easy-to-setup DIY system, and a fantastic monitoring package. Vivint has upgraded their technology and services so much that they ranked well in the cellular alarm rankings, the wireless alarm rankings, and even the overall rankings. If you'd like to check out some of these reviews, you can search AlarmSystemReport.com for the Vivint reviews. You'll find that they really did earn their high rankings this year.
AlarmSystemReport.com knows that DIY systems are only good when they are actually made with the DIY'er in mind. Because of this, they also checked out the Vivint reviews on a wide variety of social sites. This is because the average user is not an expert and he or she may have different opinions than the experts AlarmSystemReport.com hired.
Nevertheless, AlarmSystemReport.com found that people on Angie's List, Facebook, and many other social sites had nothing but positive things to say about Vivint's DIY systems. Once AlarmSystemReport.com discovered this, their Vivint DIY alarm system review was complete.
Consumers who visit AlarmSystemReport.com can find Vivint's DIY reviews listed with all of the other top alarm system companies that made the grade. Homeowners who aren't interested in a DIY system can navigate away from that page and check out the home security reviews that are most relevant to them.
AlarmSystemReport.com is full of both general reviews on home alarm companies and category reviews on home alarm companies. This being said, they don't just list any company. The experts at AlarmSystemReport.com screen companies that can't meet certain requirements and leave them off of the website. This helps keep the website free of clutter and easy to read.
To find out which companies made it onto AlarmSystemReport.com, please visit their website.