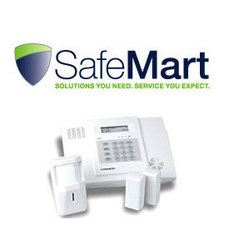 We are certain that these new features offer tremendous value to our new and existing customers
Saint Marys, KS (PRWEB) July 31, 2008
SafeMart, a leader in the do-it-yourself home security industry has released a new, completely redesigned website. The new site combines a simpler format with innovative new features to assist home and business owners in purchasing and installing complete home security systems.
In an industry where detailed product information is more readily available, and technological advances make systems more user friendly, informed consumers are increasingly turning to a do-it-yourself model of home security. To better meet the demands of this market, SafeMart, a leader in do-it-yourself home security, launched a complete redesign of their website, SafeMart.com.
The new website features a simpler design and more intuitive navigation. The most popular choices and brands are presented in an easy to find format on the home page, and all other home security products are grouped in clear categories with convenient drop down menus. Additionally, the new site features video presentations of products, assisting customers in making informed decisions, and clearly explaining the different features of prospective purchases.
"We are certain that these new features offer tremendous value to our new and existing customers," said Joe Mioni, the website manager at SafeMart. One of the features specifically designed to help existing customers, as well as new customers, is the new customer account section. Each customer will now have real time access to their own account on SafeMart.com. This account will provide detailed information on purchases, customer history, and billing information. It will also allow customers to pay invoices online, and easily submit technical support questions to SafeMart's trained staff.
Another significant change is the checkout page. It is now streamlined into an easy, single page format. Customers will no longer have to wait for pages to load, or lose data when changing information in an earlier step.
"At SafeMart, our goal is to give our customers the greatest value," said general manager, Chris Johnson. "That's why we undertook this project of redesigning the website; to further what SafeMart is already known for: our absolute commitment to customer service."
For additional information on the website launch, contact Joe Mioni or visit http://www.safemart.com.
About SafeMart.com:
SafeMart is a home security company with an emphasis on do-it-yourself applications for home and business owners. Over the past five years, it has emerged as one of the leaders in this industry. The company currently offers over 1,500 home security and home automation products and will be adding thousands more over the next few months.
# # #