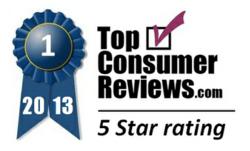 TopConsumerReviews.com has reviewed several top home security companies available in the Western U.S. to help customers with their home security needs.
Los Angeles, CA (PRWEB) February 24, 2013
TopConsumerReviews.com recently published the best home security systems in the Western United States. TopConsumerReviews.com provides independent reviews for thousands of products including top home security systems in order to help consumers make well informed decisions.
The West is not immune to hundreds of thousands of violent and residential crimes each year. Like many other regions in the U.S., the days of unlocked doors and open windows are a thing of the past for many towns and cities in the Western states. The potential for an intruder to cause physical harm inside one's home is a genuine concern. This fact is not going ignored by homeowners that search for the best methods to protect their families and their property. Experts suggest deadbolts, properly placed exterior lighting, and a home security system as the best approach to safeguarding a home.
TopConsumerReviews.com has reviewed several top home security companies available in the Western U.S. to help customers with their home security needs.
ADT offers a more traditional security system with hardwired installation and a sales consultant. Many homeowners in the West appreciate the long standing history that ADT and its monitoring service bring to the table.
FrontPoint Security provides an all cellular home security system, some remote access options, and easy installation process for homeowners located in the Western states. Affordable pricing and a friendly customer service team at FrontPoint Systems makes this a great home security option.
Vivint provides both home security and home automation to residents of the West. Vivint allows customers to control their home from any location where internet access exists. Customers can remotely view their home with cameras, engage the system, turn on the lights, and more. Monthly monitoring and wireless fees are a little more expensive than other home security companies, but work well for residents that want to take control.
Protect America offers a variety of home security packages that provide the latest in technology and reliable 24 hour monitoring. Their wireless systems work well for both homeowners and renters, and a no pressure customer service team means no stressful conversations. Self-installation and affordable pricing places Protect America high in a group of home security companies available in the West.
To find out more about home security companies, including reviews and comparison rankings, please visit the Home Security Systems category of TopConsumerReviews.com at http://www.topconsumerreviews.com/home-security/.
About TopConsumerReviews.com
TopConsumerReviews.com, LLC is a leading provider of independent reviews and rankings for thousands of consumer products and services. They offer the latest on Home Security including information, education, and ratings for the best home security systems available today.