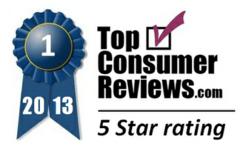 With burglaries occurring every 13 seconds in the U.S., a home security system to important to safeguard a home.
Overland Park, KS (PRWEB) February 12, 2013
TopConsumerReviews.com recently reviewed the Guardian Protection Services home security system. TopConsumerReviews.com provides independent reviews for thousands of products, including home security systems, in order to help consumers make well informed decisions.
Guardian Protection Services is a Pennsylvania based company that has been in the home security business for over 60 years. They offer a traditional home security company experience, complete with a home security salesman and a distributorship outlet. Unfortunately, the website is not very forthcoming about monitoring or equipment prices, which forces potential customers to speak with a home security salesman to determine their home security system needs.
The products at Guardian Protection Services are manufactured by GE and include door sensors, motion detectors, keypads, window decals and yard signs. Overall, the product line at Guardian is pretty standard. We did not identify any home automation options at this time.
Guardian Protection Services offers a three year home monitoring contract with the option for automatic renewal. Questions and concerns can be addressed through their 1-800 number for assistance.
Brian Dolezal of TopConsumerReviews.com explains, "With burglaries occurring every 13 seconds in the U.S., a home security system to important to safeguard a home. Guardian is one choice among several home security system options we've reviewed. At TopConsumerReviews.com we've closely analyzed the best home security systems in order to help customers make an informed buying decision. In the end we know the purchasing decision is ultimately up to the customer, but we hope our reviews will assist them in the process."
To find out more about home security companies, including reviews and comparison rankings, please visit the Home Security Systems category of TopConsumerReviews.com at http://www.topconsumerreviews.com/home-security/.
About TopConsumerReviews.com
TopConsumerReviews.com, LLC is a leading provider of independent reviews and rankings for thousands of consumer products and services. They offer the latest information regarding home security systems including education, and ratings for the best home security available today.