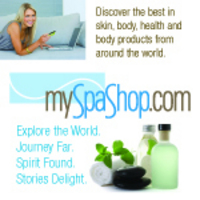 Kimberley Matheson Shedrick, founder of mySpaShop says with the economic downturn clients are looking for more affordable and accessible do-it-yourself wellness and spa experiences at home for those in-between treatments at spas.
New York, NY (PRWEB) February 9, 2010
Find affordable and accessible ways to treat that special someone to a day at the spa this Valentine's Day, the home spa products boutique at mySpaShop.com(mSS) provides techniques on how to bring spa home to everyone, anytime. This may not only create a much more romantic setting, but it is also lighter on the pocket book. Kimberley Matheson Shedrick, founder of mSS says "With the economic downturn clients are looking for more affordable and accessible DIY wellness and spa experiences at home for those in-between spa visit treatments".
Within mSS's home spa treatments visitors will find multiple guides for providing romantic spa services at home. Select from a soothing Lavender Clary Massage that includes massage techniques and hints that will transform the home to a luxury spa. "Maybe your man doesn't know it yet, but part of him is absolutely craving a royal treatment. He wants to be soothed and taken care of," says Steve Capellini, author of "A Facial for Your Man", a step by step guide to a professional gentlemen's facial.
If it is going to be a solo night, mSS has suggestions on how to pamper clients for the evening in their how to spa blog "A Valentine Spa Date With Yourself". This featured blog starts with a foot soak and bath and wraps the evening up with a great movie.
In addition to the at home spa remedies mSS features, they have also hand-selected distinctive Valentine's Day spa gifts for both him and her. These gifts include a classic jewelry or perfume option but also have unique gifts like White Lion Tea's Valentine Tea Sampler. Man's (or woman's) best friend, dog, has even been thought of with a festive pink travel blanket from furr me.
One specific gift mSS has brought on for the Valentine's Day season is a Vanille Perfume Pendant from Ajne. "Valentine's day is a day that every woman wants to feel sexy," says Jane Hendler, Organic scent expert and Founder of Ajne. Romance is the spice of life. So to 'spice-up' this special day, Jane created a new and powerful aphrodisiac perfume, Vanille.
mSS also offers spa membership rewards to their consumers who register on the site. Participants earn m$$ dollars immediately on their purchases. Members can also earn m$$ points for every friend they refer to the site who registers on mSS. These points can then be used same as cash once enough points have been accumulated. Want to improve your company's online retail marketing strategy and earn additional revenue? Join the mSS spa sales affiliate program. Visitors to mSS can also find and book spa appointments online in partnership with Spa-booker a division of Spafinder.
About mySpaShop: mySpaShop.com (mSS) is the Web's first virtual spa offering everything you need to lead the spa lifestyle -- accessible to anyone, anytime, anywhere. mSS brings together experts, treatments and shopping for the newest spa products, instant spa gift certificates and lets the spa community share personal stories. Top spa lifestyle advisors and beauty professionals educate site visitors on "Do it Your Self" healing rituals, massages and facials, fitness and exercise, turning the bathroom into a spa, bathing as therapy, cleansing, meditation, healthy living and beauty therapies. Users will find nutritional and weight loss advice and more than 2,000 of the newest spa products and skincare lines including many now only available at destination spas. Visitors will also find a community of like-minded people where they can share their stories and get peer support. mSS is the creation of Kimberley Matheson Shedrick, CEO of Natural Resources Spa Consulting, Inc (NRISpa.com), a leading spa consultancy whose high-end clients include Trump Resorts, Cuisinart Art Resort and Spa in Anguilla, the Fontainebleau Resorts in Miami Beach and Las Vegas, Princeville Resort in Kauai and the Four Seasons Hotels in Moscow, New York City and Vail.
###