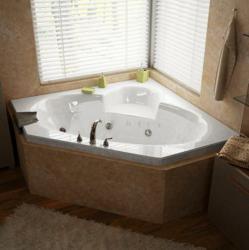 Luxury bathroom design offers a wealth of opportunities to create a space that's not just good for encouraging peace of mind, but actually promotes good health.
(PRWEB) May 20, 2013
HomeThangs.com – the Online Home Improvement Super Store has made it their goal to deliver the right product to the consumer. With that in mind, shopping and home design tips, as well as special product selections are being introduced.
American bathrooms are trending towards large, spa style spaces. But with a few smart choices, luxury bathrooms can offer more than just a little R&R - they can actually offer a myriad of important health benefits, too. To that end, HomeThangs.com has introduced a guide to choosing the best luxury bathroom fixtures to maximize a bathroom's built-in health benefits.
1. Hydrotherapy Bathtubs
Bathtubs are an essential part of every bathroom, but to reap the most benefit from the space, whirlpool bathtubs are a much better choice. Originally designed and prized for their medicinal effects, these high-capacity water and air-jetted tubs are similar to ones that have been used by professional athletes and physical therapists since the early 1900s. The hot water and powerful water jets help ease tense and sore muscles, reduce pressure on aching joints, improve blood flow, and enhance physical mobility, all without taking up much more space than a standard bathtub.
2. Hydrotherapy Showers
Showers are in the middle of a major revolution in the US, transforming from small utilitarian spaces to sprawling shower stalls equipped with multiple shower heads and body sprays. But this change isn't just aesthetic or even purely a luxury - it's a huge benefit to anyone suffering from muscle pain and even seasonal allergies. Custom showers offer a deep, all-over massage, and because they produce quite a bit of steam, can help relieve sinus pressure. From complex custom showers to simple shower panels, a well designed shower is not only good for relaxing, but can actually relieve minor day-to-day ailments.
3. Chromotherapy
Science has shown that various colors have an effect on mood – blue is calming, yellow is energizing, and so on. Luxury bathroom designers are starting to incorporate colored lights into common luxury bathroom fixtures, like whirlpool tubs, steam showers, and even designer shower heads. Because of the way light interacts with water, when these LEDs are on, the water and steam are illuminated, producing a relaxing glow in a variety of colors. Commonly referred to as chromotherapy, this is definitely a feature to look for when furnishing a luxury bathroom.
4. Aromatherapy
Of all the health beneficial luxury bathroom features mentioned here, aromatherapy is probably the most familiar. Bath bombs and scented bath salts are common and inexpensive options that illustrate the basic principle: like color, various scents can have a powerful effect on mood. Lavender is relaxing and citrus energizing, while other scents have physical effects, like eucalyptus, which can help open the sinuses, peppermint, which can enhance memory and alertness, and jasmine, which can reduce stress and anxiety. But what's less commonly known is that luxury steam baths and many towel warmers are beginning to incorporate essential oil aromatherapy into their design as well, making for a more genuine spa like appearance in a home bathroom.
5. Steam Baths And Saunas
Both steam and heat therapy have been used around the world for thousands of years, from the Roman baths to Nordic saunas to Native American sweat lodges. Each uses a combination of heat and steam to promote circulation, clear the sinuses, and remove toxins from the body. But now they're easier than ever to build into a home bathroom. Standalone saunas can be installed almost anywhere with an outlet, and shower-integrated steam baths can easily be added to a custom shower.
6. Bidets
Bidets are starting to gain acceptance in high end luxury bathrooms in the United States. In other parts of the world, they're much more commonplace, and there are more than a few arguments to be made in their favor. Bidets provide a more thorough and gentler cleaning without the irritation associated with rough toilet paper. For anyone with bowel problems, bidets can provide immediate relief; for those with limited mobility, they can provide a degree of independence in terms of personal hygiene that regular toilets simply can't offer. And because bidets are completely hands-free in operation, they can even help prevent the spread of bacteria.
To find out more about the health benefits of common luxury bath fixtures, read the full version of "Six Luxury Bathroom Upgrades That Are Good For Your Health"
HomeThangs.com is more than just a Home Improvement Superstore. They're constantly seeking to provide homeowners and designers with the right products at competitive prices. With a wide selection of products, expert design tips, and comprehensive shopping guides, Homethangs is a company that's there at all stages of the design process, from idea to execution. It's their goal is to make dream remodels doable.