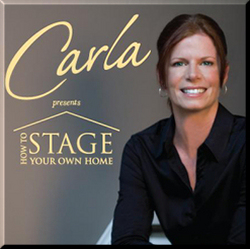 Real Estate professionals, weekend warriors and do-it-yourselfers will greatly benefit from the guidelines and instructions provided in my user friendly 4 DVD set and accompanying step-by-step Enhancement Guide
Toronto, Canada (PRWEB) March 5, 2009
Canadian interior designer and home stager Carla Woolnough has launched a step by step instructive DVD and workbook package, How to Stage Your Own Home, to assist Realtors and home owners with the latest tips and tricks toward the best overall property sale presentation. Let Carla be your professional staging coach at a fraction of the traditional cost and reward yourself with a faster sale and the profitability of extra cash toward your next home.
In a 2007 National Survey reported by Canadian Staging Professionals, "Homes which are staged have been known to sell on average three times faster than un-staged homes and bring as much as 15% more on the selling price". The reported return on investment in home staging improvements ranged from 39% to 769%.
"Real Estate professionals, weekend warriors and do-it-yourselfers will greatly benefit from the guidelines and instructions provided in my user friendly 4 DVD set and accompanying step-by-step Enhancement Guide" says Carla Woolnough. Compared to the hundreds and sometimes thousands paid for a professional home stager, this affordable DVD series retails at only CAN $99.95. How To Stage Your Own Home is now available for purchase on-line by logging into Carla's E-Store.
Carla Woolnough is currently the national spokesperson for the RE/MAX, Are you Fit to Sell program, launched throughout Canada on February 19, 2009. She is founder and owner of the home decorating and staging company, Nex-Step Design, with professional affiliations through (CCSP) Certified Canadian Staging Professionals, and (RESA), the Real Estate Staging Association. In 2007 Carla co-founded the largest short-term furniture rental company in Canada for the staging industry.
###