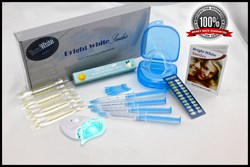 This kit was perfect for an upcoming event I wanted to whiten my teeth for. Whitened them quite a bit in only a week! Very happy!
Newport Beach, CA (PRWEB) May 07, 2013
IllumiWhite announced their brand new breakthrough teeth whitening system, the Bright White Smiles Platinum Collection. The brand new home teeth whitening system promises to whiten teeth 4 shades within the first week with a 100% money back guarantee. It is exclusively available in select local retailers and the Amazon.com marketplace.
The Platinum Collection kit has been upgraded to include 4 syringes containing 35% dentist recommended Carbamide Peroxide professional whitening gel, newly released White LED Light to dramatically increase whiteness and gel uptake, 8 Vitamin E Snap Swabs for ensured comfort, syringe caps, shading guide, 2 moldable teeth trays with teeth tray case and a teeth whitening pen for "on the go" or "night" time usage.
The new kit includes everything that would be used in any professional top of the line teeth whitening treatment system, giving results someone would obtain at their local dentist office, but from the convenience of their own home.
Nothing can damage one's self-esteem faster than dull, stained teeth. Eating, drinking habits and age all attribute to yellowing teeth, which leads to a negative impact on our social life as well as our professional lifestyle.
The IllumiWhite Bright White Smiles Platinum Collection Kit is a cost-effective alternative that offers a 100% money back guaranteed solution to dull, discolored teeth. The system is extremely simple and inexpensive compared to professional dentist treatments. Best of all, the product can be used in the privacy of one's own home.
Simply apply the 35% Carbamide Peroxide once per day for 7 days days and watch a brighter, whiter smile appear. Customers notice smiles up to 4 times brighter. The Bonus teeth whitening pen is included for personal preference of use such as putting a light coat on after a meal, when out shopping, before bed etc.
IllumiWhite Bright White Smiles Platinum Collection is as confident in their teeth whitening kit in whitening at least 4 shades in 7 days. In fact, they are so confident in their product that they now offer not just a 30-day money back guarantee, but a 60-day no questions asked 100% refund if their customers are dissatisfied for any reason.
To find out more about IllumiWhites at home teeth whitening kit, you can visit their Amazon storefront or visit select local retailers in Southern California. Currently the IllumiWhite Bright White Smiles Platinum Collection kit is being offered at only 49.97 for a limited time. There is also a $5 discount for any customers who use discount code RDDL6NBB at checkout with Amazon.com