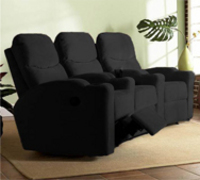 The Valentino is the first of many exclusive offers shoppers at TheaterSeatStore can expect to see.
Golden, CO (PRWEB) August 9, 2009
Under an exclusive arrangement with one of the largest furniture manufacturers in North America, TheaterSeatStore is selling "The Valentino" home theater seat on its website - TheaterSeatStore.com. This is part of an increasing trend where furniture manufacturers are recognizing the movement in consumer spending toward shopping online and are pursuing online strategies. TheaterSeatStore will be adding additional home theater seating for sale in the future under this arrangement.
"The trend in consumer spending has provided TheaterSeatStore with the opportunity to pursue many strategic relationships with various mainstream home theater furniture manufacturers including Berkline, Palliser, Klaussner, Jaymar, Coaster, Vantage HTS, and others, which were not previously available," commented Peter Goldstein, Vice President of Sales at TheaterSeatStore. "The Valentino is the first of many exclusive offers shoppers at TheaterSeatStore can expect to see."
The Valentino is the highest quality home theater seat on the market for under $300. It is available in either black or brown microfiber and includes an industry leading Leggett & Platt Reclining Mechanism. The back height of 42 inches is perfect for taller consumers. The tall seat back and the fact that the seat back is split into three horizontal padded panels offer excellent lumbar support. The wallaway design allows this home theater seating model to fully recline while only three inches from a wall.
Online furniture retail sales were estimated by comScore to be $4.5 billion or 3.5% of total online retail sales for 2008. Furniture/Today and HGTV's 2009 Consumer Views Survey estimates that 44% of adult U.S. consumers have purchased home furnishings online. Theater seat recliners are regarded as "big ticket" or larger value sales and as such, are purchased by more affluent households. Higher income households with incomes of $100,000 or more are more likely to purchase home furniture online when compared to lower income households. Recently published data in the United States confirms the increasing trend towards shopping online while brick-and-mortar retail sales have been impacted to a greater extent by the recession. Furniture manufacturers recognize these characteristics in consumer spending and are adapting to the changing environment.
About TheaterSeatStore
TheaterSeatStore is the market leading retailer of home theater furniture products, motion furniture, massage chairs, and sofa and sectional sets. The company offers a wide range of products and services designed to enhance and decorate a dedicated home theater environment. TheaterSeatStore is a member of the National Home Furnishing Association and Western Home Furnishings Association, and is an A-rated Better Business Bureau member for over 3 years.
# # #