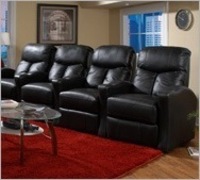 These numbers speak for themselves, so it was an easy decision to pursue this initiative.
Lakewood, CO (PRWEB) August 14, 2009
TheaterSeatStore has introduced short videos to display various popular Berkline home theater seating models on its website - TheaterSeatStore.com.
Initially, TheaterSeatStore will display Berkline's top twelve selling theater seat recliners, before being rolled-out to other manufacturers and products. General features of Berkline theater seats as well as recliner specific features are highlighted in the videos. Some of the more popular existing models featured include the Berkline 12003 - The Reno, Berkline 45090 - The Matinee and Berkline 45099 - The Bijou. New models have also been featured in these videos. Exciting introductions by Berkline during the Spring Furniture Market at High Point North Carolina, the world's largest furniture market, include Berkline Style 45003 - Center Stage, 45032 - The Academy, and 45033 - The Presidio. Many of the individual characteristics of these seats are explored in more detail in the videos like the hidden storage available with the 12003, 45003, and 45033 recliners.
"These short videos provide an interactive experience of the functionality of the seats and options available", commented Peter Goldstein, Vice President of Sales at TheaterSeatStore. "They display the actual look and feel of the seats and provide the closest experience to physically sitting in the seats themselves. We want our customers to make the most informed decision when buying furniture online. Along with sending samples of the leather or microfiber fabric, TheaterSeatStore provides the best tools available which truly defines us as market leaders. This commitment has defined us as Berkline's largest online retailer of theater seating and we will continue to lead with other exciting initiatives in the future."
Approximately seventy percent of respondents to a recent survey stated that they had seen a video advertisement online. Approximately forty-five percent of these respondents stated that they had taken some action as a result of seeing the video, of which thirty-eight percent viewed the website, sixteen percent requested additional information about the product, and twelve percent purchased the product. This indicates that online shoppers respond to interactive media such as videos.
"These numbers speak for themselves, so it was an easy decision to pursue this initiative." As internet accessibility moves to faster internet speeds, videos displays and advertisements are expected to become increasingly relevant. TheaterSeatStore is committed to remain at the forefront of the industry and will continue to provide best tools available to get the perfect seat at the best prices.
About TheaterSeatStore
TheaterSeatStore is the market leading retailer of home theater furniture products, motion furniture; massage chairs, and sofa and sectional sets. The company offers a wide range of products and services designed to enhance and decorate a dedicated home theater environment. TheaterSeatStore is a member of the National Home Furnishing Association and Western Home Furnishings Association, and is an A-rated member of the Better Business Bureau for more than 3 years.
# # #