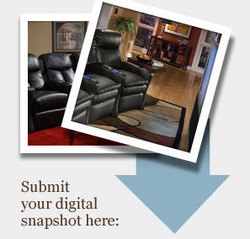 Golden, CO (Vocus) March 25, 2010
TheaterSeatStore, the premier online retailer for home theater furniture, is hosting the 2010 Theater of Design Photo Contest. Home theater enthusiasts will have the opportunity to showcase their home theater seating by sending photographs to TheaterSeatStore.com. All contestants will receive a free tray table along with the opportunity to win a $1,000 gift certificate for the purchase of any product from TheaterSeatStore. Photographs can be submitted online at http://www.theaterseatstore.com/photo-contest and winners will be announced semi-monthly through the end of May 2010.
"We understand the investment of time and money involved in designing and building the perfect home theater, and are offering home theater enthusiasts the opportunity to submit photographs that showcase their home theaters and become eligible to win $1,000", said Peter Goldstein, Vice President of Sales at TheaterSeatStore. "Contestants are welcome to submit as many photographs as they would like to showcase the best aspects of the home theater seat design and layout in their own homes."
The competition is open to all home theater enthusiasts and is not limited to TheaterSeatStore customers. It will be judged by TheaterSeatStore's internal design team and winners will be announced semi-monthly. Entries must include home theater seating or cinema seating in an actual home theater environment. Professionally designed rooms are eligible for the competition but professional designers are prohibited from entering their clients' home theaters as a personal entry.
All contestants will receive a free tray table along with the chance to see their home theater seats displayed online. This will help shoppers visualize home theater possibilities for their own homes and provide TheaterSeatStore sales professionals with innovative ideas to help shoppers make their home theater dreams come alive.
Photos of theater seats in actual home theater environments, product reviews, and video product displays are some of the tools that TheaterSeatStore provides to shoppers to help purchase the perfect home theater seats for budget, room size, and personal style. These tools along with the emphasis on customer service are the primary reason why TheaterSeatStore continues to lead the industry and remain Berkline and Palliser's premier online retailer of home theater furniture.
About TheaterSeatStore:
TheaterSeatStore.com is the market leading retailer of home theater furniture products, motion furniture; massage chairs, and sofa and sectional sets. The company offers a wide range of products and services designed to enhance and decorate a living room space or dedicated home theater environment. TheaterSeatStore is a member of the National Home Furnishing Association and Western Home Furnishings Association, and is an A-rated member of the Better Business Bureau.
###