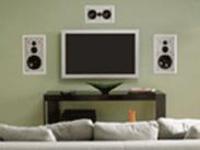 Gone are the days when lighting control was limited to 'on' or 'off'
San Francisco, CA (Vocus) November 27, 2010
Smart homes are not just for the rich anymore. In recent years they have become more accessible for the ordinary homeowner. Imagine walking into a home and cueing up the lights, music, video, and internet from a single controller. Audio symphony in San Francisco makes it possible with their multi-room home stereo, lighting, and video products designed to be intuitive and accessible.
"Gone are the days when lighting control was limited to 'on' or 'off'," said Kaveh. "These days, homeowners have the potential to adjust lighting to create a variety of moods in their home along with pre-programmed lighting for safety and comfort."
Audio Symphony is not only helping homeowners keep up with the trends, whether it's adding a dedicated, integrated, or multi-room entertainment system—a professionally installed system increases the property's value and adds comfort and safety to the home.
"When you hire a home entertainment professional like Audio Symphony, be sure you do your homework so that you know they use the best materials and equipment available," said owner Farzin Kaveh.
For more information about smart home designs or any of Audio Symphony's services, call them at (415) 692-5742 check out their store location at 1525 Van Ness Avenue, San Francisco, CA 94109 or visit them on their website at: http://www.audiosymphonysf.com/
About Audio Symphony
Audio Symphony of San Francisco is a car stereo and home entertainment retailer that specializes in car and home theater installations and smart home entertainment systems and designs.
Audio Symphony serves the San Francisco Bay Area, including the communities of Atherton, Berkeley, Burlingame, Daly City, Emeryville, Marin, Mill Valley, Oakland, Palo Alto, Piedmont, Redwood City, San Francisco, San Mateo, San Rafael, Sausalito, Tiburon, Sonoma, Napa, and Woodside.
###