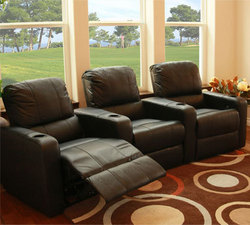 We are excited about our new look and how it improves the tools for shoppers to choose the perfect home theater furniture
Golden, CO (PRWEB) March 11, 2010
Home theater seating has a new look and feel at TheaterSeatStore's re-launched website, theaterseatstore.com. The new look website is well-organized, easy to navigate, and combines a unique blend of technologies that provides a superior shopping experience. Customers can better identify and purchase the perfect home theater seating or sofa and sectional set based on design, style, room size, and budget.
"We are excited about our new look and how it improves the tools for shoppers to choose the perfect home theater furniture", said Peter Goldstein, Vice President of Sales at TheaterSeatStore. "Our extensive range of products is well organized and takes advantage of various multimedia technologies to enhance the shopping experience."
Behind the scenes changes allow shoppers to easily view over 120 of TheaterSeatStore's video displays demonstrating features of various products from Berkline, Palliser, Catnapper, Jackson, and others. The technology behind these multimedia capabilities is cutting-edge making viewing as easy as a click of a mouse without lengthy delays for downloading content. The new technology dynamically delivers the video in various formats depending on the visitor's internet connection thereby eliminating lengthy load times when navigating between pages.
New product pages better identify what makes a product unique by highlighting top characteristics. Important additions include detailed warranty information on each model across all brands because the furniture warranty is such an important part of the buying decision. Additional information, including product details, material descriptions, dimensions and configurations, color swatches, and customer reviews, is provided with tabbed content for easy access. Tabbed content allows all these pages to be viewed within a single window making it easier to answer all questions and make a decision on which home theater seats or sofa and sectional set to purchase.
Customer reviews continue to be one of TheateSeatStore's strengths and most popular features. Existing customers can post comments about the products on each of the product pages for review by visitors. "What the product pages do not address, the customer reviews almost certainly identify", said Peter Goldstein. "They provide a very real and sometimes harsh opinion on certain products."
Sales support including online messaging can be easily accessed at the left side of the website or shoppers can contact a sales professional directly via telephone to answer questions or place an order.
Category pages discuss brands in more detail with the category highlights at the top of the page for easy viewing. The category pages include short descriptions under each brand to guide the shoppers as to what that brand represents i.e. value, premium, best selling, etc.
The site also includes better footer navigation so that topics relating to service and customer support can be accessed more easily. Shoppers can sign up for instant coupons at the footer of the website and receive the best deals and special savings.
About TheaterSeatStore – TheaterSeatStore.com is the market leading retailer of home theater furniture products, motion furniture; massage chairs, and sofa and sectional sets. The company offers a wide range of products and services designed to enhance and decorate a living room space or even a dedicated home theater environment. TheaterSeatStore is a member of the National Home Furnishing Association and Western Home Furnishings Association, and is an A-rated member of the Better Business Bureau.
###