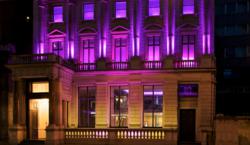 "64 Knightsbridge is a building with impressive heritage"
Kevin Clayton, MD, E-LIFE
(PRWEB UK) 1 December 2011
Although the company already had London Based offices the move to prestigious Knightsbridge reaffirms the company as leaders in the luxury home automation market.
64 Knightsbridge is a building with an impressive heritage. Before it's refurbishment it housed London's oldest foreign club, the Danish Club. Yet today, behind the beautiful classical facade lies a centre for international business that boasts designer fittings and artworks as well as the latest in business technology. You cannot fail to be impressed by the striking reception area. Designer style runs throughout the interior, with many beautiful objects including a Ron Arad sculpture of a sofa in silver steel.
Our board room will allow us to hold CPD seminars and business presentations for some of our potential new clients.
The London office also helps to complete the UK coverage for E-LIFE which carry out installations all over the UK and further afield. Some of our latest installations have been on a multi plot site for a developer in Guernsey.
E-LIFE home automation work for some of the most demanding and discerning of clients, they tend to be early adopters who recognise the benefits of having integrated systems and a variety of control options. E-LIFE systems allow control of the lighting, heating, door and gate entry systems as well any audio and visual solutions. This can be done from inwall or wireless touchscreens but more recently it's likely to be from an ipad or iphone.
The full scope of what is controlled varies by property and some of our latest installations include a range of touchpads available in slate, leather or antique bronze that allows control of the lighting and heating. This eliminates the needs for seperate light switches and heating thermostates, it also means lighting and heating can be "zoned" so there are different settings for a series of different rooms.
###