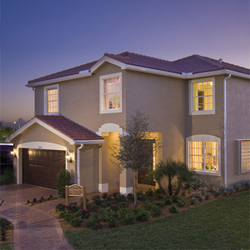 Boynton Beach (PRWEB) September 24, 2009
GreyStone by G.L. Homes leads the Boynton Beach real estate market in new home sales for the year, with nearly 150 homes sold since January and more than 60 percent of the community's 552 homes closed. In fact, the community's townhomes are already sold out. The success of GreyStone in this real estate market is testament to G.L. Homes' ranking as a top 10 home builder in the United States and as the number one home builder in South Florida.
GreyStone's record-breaking home sales this year can be attributed to many factors. First, GreyStone is affordably priced from just $249,900 and offers amenities most commonly found in million-dollar communities. Second, the staff at G.L. Homes helps homebuyers through each and every step of the home buying process from selecting a model and personalizing the space with extra features to handling the complex paperwork.
Third, the Home Buyer Tax Incentive is encouraging new home purchases in a weak real estate market, particularly among younger buyers who are attracted to all that Greystone has to offer. These factors coupled with the family-friendly atmosphere and a convenient South Florida location make GreyStone an ideal community for homebuyers.
Built by one of the top 10 home builders in the United States, GreyStone features beautifully appointed luxury homes in two stunning home collections starting from the mid $200,000s. Homes are either built to a customer's specifications, or are available for immediate move-in.
The Diamond Collection of single-family homes offers eight spacious single family floor plans ranging in size from 1,703 to 3,019 air-conditioned square feet of living space. Diamond Collection homes are reasonably priced from the mid $200,000s.
Moderately priced from $229,000, the popular Emerald Collection Townhomes were available in four spacious floor plans and are sold out. The airy townhomes range in size from 1,482 to 2,094 air-conditioned square feet of living space.
GreyStone features top amenities in the Boynton Beach real estate market with five acres of recreational amenities facilities that are exclusively for community residents. There's a beautiful clubhouse, state-of-the-art fitness center, resort-style swimming pool with sundeck and a wet-play area for younger residents. Other amenities include a lighted tennis court, a full basketball court, a sand volleyball court and open playing/soccer field.
For sales information, call 561-364-1000 or visit GLHOMES.
###